Local government ombudsman to champion residents' cause
A Chairman and Vice Chairman Ombudsman who will lead a more customer-focused Commission that champions the rights of redress for local residents…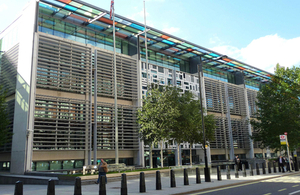 A Chairman and Vice Chairman Ombudsman who will lead a more customer-focused Commission that champions the rights of redress for local residents were appointed today.
Acting Chairman Dr Jane Martin has been designated as Chairman of the Commission for Local Administration in England and Anne Seex as Vice-Chairman. Both are already performing Local Government Ombudsman roles.
Creating a more streamlined Local Government Ombudsman will deliver a more cost effective organisation and make sure that the Ombudsman is well placed to provide services that support citizens' needs with a particular emphasis on consumer champions as envisaged in the Open Public Services White Paper.
The Minister for Local Government Grant Shapps said:
I am delighted that Jane Martin and Ann Seex have taken up the task of leading the Local Government Ombudsman. I know they are determined to champion the rights of local residents.

The Local Government Ombudsman has a vital role to play in the community making sure people get swift and fair redress if things go wrong in the delivery of their local services.
Notes to editors
Dr Jane Martin was appointed to the post of Local Government Ombudsman and Vice-chair of the Commission for Local Administration in England in January 2010.  Since November 2010 she has been Acting Chair following the retirement of Sir Tony Redmond. She has extensive knowledge and experience of public service delivery. At the University of Birmingham and Warwick Business School she conducted research on public management and governance in the fields of education, health and local government. She has worked in local authorities across England as a consultant for the Improvement and Development Agency for Local Government (IDeA) and was the first Executive Director of the Centre for Public Scrutiny. Prior to joining Local Government Ombudsman she was Deputy Chief Executive at the Local Better Regulation Office and a Non-executive Director of Coventry Primary Care Trust.

Anne Seex was appointed to the Commission as the Local Government Ombudsman based at York in October 2005. She previously had over 25 years' experience in local government, joining the Commission from Norwich City Council where she had served as Chief Executive for five years. Anne's experience included 11 years in various roles in the Chief Executive's Department at Manchester City Council. She left Manchester to become Director of Community Services for Lancaster City Council where she was responsible for housing, leisure, environmental health, engineering and estates.

The Commission for Local Administration in England, (better known as the Local Government Ombudsman) is charged by Parliament with investigating complaints from individual citizens that have suffered injustice arising from maladministration by local authorities. The authorities that the Ombudsman has jurisdiction over are primarily local authorities, as well as education admissions appeal panels, fire and police authorities, the Greater London Authority and more recently schools and private adult care homes. The service is free at point of use.
The Ombudsman can recommend redress and remedial action where they determine there has been an injustice. In 2010-2011 the Commission investigated and decided over 10,792 complaints.
The Government has also given the commission permission to appoint a Chief Operating Officer who will take over the functions of Chief Executive and Accounting Officer as part of a more streamlined senior management. The creation of the Chief Operating Officer role does not result in an overall increase in the Commission's headcount.
Twitter
Keep up to date with the Department by following us on Twitter (external link).
Media enquiries
Visit our newsroom contacts page for media enquiry contact details.
Published 16 April 2012