Local Democracy Week: Brexit, voter registration and youth engagement tops the agenda
Minister for the Constitution Chris Skidmore discusses Brexit, voter registration and youth engagement on a visit to Cardiff.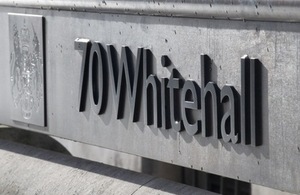 The Minister for the Constitution, Chris Skidmore, spent the day in Cardiff meeting with key stakeholders to discuss the government's plans to improve voter registration, youth engagement and working with the devolved nations on Brexit.
In an early sign of cooperation, the minister joined the Welsh Government's Cabinet Secretary for Finance and Local Government Mark Drakeford for a bilateral meeting at the National Assembly in Cardiff.
The discussions focused on the importance of getting the best possible deal for the whole of the UK as we forge a new global role for ourselves in the world, and work closely with the UK's Devolved Administrations on what the approach to negotiations should be.
They also discussed the government's modernisation of the electoral registration process through the introduction of Individual Electoral Registration which has seen the biggest change to electoral registration in over 100 years and has boosted the accuracy of the register by 4%.
The minister visited Willows High School meeting with students, members of the Youth Parliament and the Chair and Vice Chair of the Cardiff Youth Council to discuss this year's Make Your Mark Ballot.
The ballot decides what subjects the UK Youth Parliament should debate and vote to be their campaign for the following year. The government has committed​ to supporting​ the British Youth Council's​ Youth​​ Parliament and associated activities such as the Make Your Mark ballot,​ for the remainder of the Parliament until 2020.
This year's debate is set to take place on Friday 11 November within the House of Commons in London. The debate in 2015 covered topics such as the living wage, mental health and tackling racism.
The Minister for the Constitution said:
The government has committed to working closely with the Welsh Government as we negotiate our exit from the European Union and I was pleased with the discussions with the Cabinet Secretary today. We are determined to make Brexit a success for the whole United Kingdom and Wales' voice will be heard loud and clear in that process.
I was also delighted to meet with the students at Willows High School as part of local democracy week. This government is creating a democracy that works for everyone and it's hugely encouraging to see the passion and commitment of our young people as we go about it.

The Boundary Commission has started working on equalising constituencies; last week I published a policy statement on how the government plans to give overseas voters 'votes for life'; and we are continuing to engage young people by providing funding for schemes such as Make Your Mark Ballot and the National Citizen Service.
Published 12 October 2016