Local Coventry community benefits from inspirational 'boot camp' project
Baroness Newlove visits a memorial garden in Coventry designed by young people.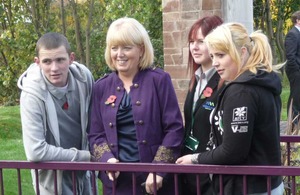 Baroness Newlove, the government's Champion for Active Safer Communities, joined local residents in Spon End, Coventry to celebrate the opening of a memorial garden at Wellington Gardens. The memorial garden has been revived and redesigned with the help and ideas from young people, who took part in Whitefriars Housing's summer 'Boot Camp' project.
Helping young people improve their life chances
The Boot Camp course - the first of its kind to be run by a housing association - involved youngsters, some of whom, had been involved in low level anti-social behaviour taking part in a week of activities with the housing association. The course included physical challenges, CV writing, interview skills, and fundraising and community projects aimed at helping young people improve their life chances, with the most-improved going on to secure an apprenticeship with the housing organisation.
Baroness Newlove said:
"Young people have a really important role to play in helping to create stronger happier and safer communities. Instead of looking at them as part of the problem, it's far better to include them as part of the solution. They need only to be channelled in the right direction to release all their positive energy. Their bright ideas, creativity and enthusiasm can make a real and positive difference to their local neighbourhood.
"It's so heart warming to see projects such as those run by Whitefriars housing. Their belief in the potential of young people to turn their lives around and make a positive contribution to the local area has not only led to the creation of this wonderful memorial garden that can be enjoyed by the whole community but it has also given these young people new skills that will help them on their way to a brighter future."
17 year-old Katy O'Beirne, from Cheylesmore, was named the winner of Boot Camp and is now a housing apprentice with Whitefriars. Speaking at the Rose Community Centre, where local residents were shown a film of the success of Boot Camp, she said:
"Boot Camp gave me an opportunity to turn my life around and I really enjoyed the things we did.
"I love being an apprentice and I want to work hard because I really value the opportunity I have been given."
The memorial garden includes a sculpture from renowned Coventry-born sculptor Walter Ritchie, who died in 1997. Walter's partner Sally Taylor attended the official opening.
Published 2 November 2011