News story
Live question and answer session with Ian Livingstone CBE
Ian Livingstone, one of the founding fathers of the UK games industry, will answer your small business questions on Wednesday 2 April 2014.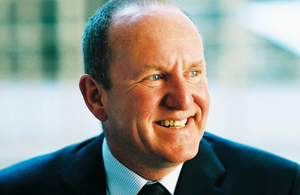 Ian's live Facebook event will cover:
growing a business
selling in overseas markets
creativity in the games industry
Ian will answer questions for an hour between 3 and 4 pm on the Facebook Ian Livingstone event page.
About Ian Livingstone
Ian co-founded iconic games company Games Workshop in 1975, launching 'Dungeons & Dragons' in Europe and the Games Workshop retail chain. He co-authored 'The Warlock of Firetop Mountain' in 1982, the first 'Fighting Fantasy' gamebook in the series which has sold over 17 million copies to date in 30 languages.
He designed Eureka, the first computer game published by Domark in 1984. He joined the board in 1992 as a major investor, overseeing a merger that created Eidos plc in 1995 where he served as Executive Chairman until 2002. At Eidos he launched major franchises including 'Lara Croft: Tomb Raider'.
Ian co-authored the 2011 National Endowment for Science, Technology and the Arts (NESTA) 'Next Gen' review, recommending changes in ICT education policy, campaigning to introduce the new computing curriculum in schools.
He founded The Livingstone Foundation, and is Chairman of several games companies including Playdemic Ltd. He also holds several public roles including chairing Skillset's Video Games Council, advising the British Council.
Ian has received many awards including a CBE in the 2013 New Years Honours list, a BAFTA Special Award, and Honorary Doctorates from Bournemouth University and Abertay University, Dundee for his contribution to the UK computer and video games industry.
Business is GREAT Britain campaign
Ian supports the Business is GREAT Britain campaign to help your business with planning to grow, hire, export or find finance.
The campaign offers a range of support, advice and expertise through government services and agencies. Much of this support is free. See the advice and support available at www.greatbusiness.gov.uk.
Published 26 March 2014