World news story
British Embassy's new science magazine aims to promote STEM education in Cambodia
From:

Part of:

Published:

9 November 2016

Last updated:

5 September 2017, see all updates
On 9 November, the British Embassy Phnom Penh launched a new science magazine, which is aimed at promoting STEM education across all of Cambodia.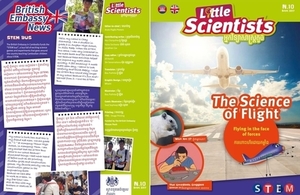 Little Scientists is a monthly-bilingual magazine, in Khmer and English, geared towards primary aged children to help promote STEM education across Cambodia.
This magazine contains diverse sections such as features, news, interviews, games, quizzes, hands-on experiments and other educational resources. The aim is to expand children's understanding of the STEM fields while having fun, gaining exposure to real world application and increasing knowledge, information and awareness about careers in STEM fields. Rich and colourful illustrations and infographics, appealing photographs and amusing cartoons draw readers to the text and engage them in learning.
Little Scientists uses current, local and highly engaging topics to show readers the practical value and exciting potential of each STEM discipline and introduce readers to important jobs that they may never have heard of.
Copies of every issue are distributed to students through the Ministry of Education, schools and our STEM partners and networks across the country. The magazine is also available in digital version and can be downloaded here:
You can find out more about the Little Scientists Magazine team here
Document information
Published: 9 November 2016
Updated: 5 September 2017
New issue
New issue is out.
The new issue (No. 5) of the Little Scientists Magazine is out!
First published.