Listeners to lead the way to radio's digital future
The future of radio is digital, but listeners will determine the pace of change, Communications Minister Ed Vaizey will say this afternoon.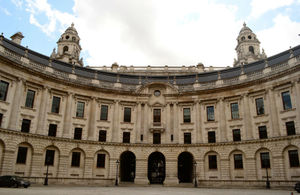 The future of radio is digital, but listeners will determine the pace of change, Communications Minister Ed Vaizey will say this afternoon.
Britain already leads the world in both take up and coverage of DAB radio and there are huge benefits for consumers, with increased choice and innovative ways to enjoy content on digital radio. However, while Government will drive the work to overcome the remaining barriers to switchover, Mr Vaizey will emphasise that it will be radio listeners who will determine when it can happen through their listening habits and purchasing decisions.
Mr Vaizey is publishing a Digital Radio Action Plan which will encourage more consumers to make the switch and give industry the certainty it needs for investment. Key actions for Government and industry include:
agreeing a plan for building DAB coverage to match FM
a detailed assessment of the impact of switching over to digital radio, including the costs weighed against the benefits, how to ensure rural areas are not left behind and the need for a proper environmental plan
developing a kitemark scheme for digital radio devices that guarantees quality
developing a strategic marketing and communications plan
determining whether a help scheme is needed and how it might be run
Speaking at the Intellect Digital Home Conference, Ed Vaizey will say:
"Digital radio is a huge opportunity for radio listeners and the radio industry alike. At a time when we are looking for manufacturing success stories, British companies like Pure, Roberts and Bush are world leaders. And the technology offers radio lovers the same explosion of choice that TV viewers have embraced so wholeheartedly.
"But we can't impose this on an unwilling public, no matter how persuasive the business case, or how clearly we know that analogue is already providing a barrier to growth and creativity. So listeners need to be persuaded that the content on offer is compelling, that the quality is high and that digital radios, at home or in the car, are affordable and have listening quality that is at least as good as FM.
"The Digital Radio Action Plan I am publishing today sets out our clear commitment to make progress towards digital radio switchover. But I am not setting a date. The industry believes 2015 is an achievable target date and we will work to support that ambition. And when the weight of public opinion is behind it, with more than half of all radio listening digital, then we can take the decision on when the country will be ready for switchover."
New independent research also published today shows that the difference in energy consumption between digital and analogue radio sets is minimal, with the efficiency of digital radios continuing to improve. At the same time, digital transmission networks are significantly more energy efficient than their analogue equivalents. For example, it is estimated that transmitting Classic FM nationally via DAB uses less than 7 per cent of the electricity needed to transmit it via FM. Local and regional DAB transmissions offer energy savings of around 50 per cent.
Notes to Editors
A full transcript of the speech will all be available here following the speech at approximately 4.30pm.
Download The Digital Radio Action Plan
Download Independent research on the energy consumption of digital radio. The research was commissioned jointly by the Department for Business, Innovation and Skills and the Department for Energy, Food and Rural Affairs.
The Digital Economy Act 2010 provides a legal framework for a digital radio switchover, which consists of a migration of the vast majority of radio services from analogue to digital only. FM would continue to be available to small local and community radio stations.
Quotes
Ashley Tabor, Founder & Group CEO, Global
"We welcome the clear direction that that the minister has laid out today with a clear role for the BBC, commercial radio, retailers and manufacturers.
We look forward to working with the government and other partners to bring the benefits of digital radio to a growing group of listeners."
Leen Petre, Chair of the Consumer Expert Group
"We welcome the launch of the action plan and the opportunity it creates for consumer representatives to be actively involved in the process of coming up with the right answers for the future of radio. We believe that the benefits and the interests of consumers, including vulnerable consumers, have to be put at the heart of this process. The Consumer Expert Group is in the process of writing up its suggestions to the Minister and we will be passing those to him in the coming months." 
Leslie Burrage - CEO Roberts Radio
"We welcome the government's commitment to a digital future for radio and the publication of the Digital Radio Action Plan. The Action Plan is an essential part of the process and will address many of the barriers to digital radio's future growth. We specifically welcome the Government's commitment to put the needs of listeners at the heart of any future decision on digital radio switchover." 
Tim Davie - Director of Audio and Music BBC
"We welcome the Government's commitment to radio's digital future and the importance they have placed on the listener in any future switchover. The BBC will, along with Digital Radio UK, work closely with Government and the rest of the radio sector to deliver the Action Plan."
Press Enquiries: 020 7211 2210
Out of hours telephone pager no: 07699 751153
Public Enquiries: 020 7211 6000
Published 8 July 2010