Press release
Limited powers returned to Rotherham council
Responsibility for the running of a limited number of services will return to Rotherham council.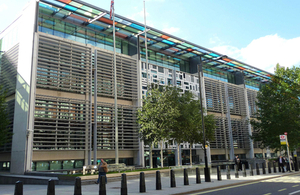 Responsibility for the running of a limited number of services will return to Rotherham council from today (11 February 2016) – but Communities Secretary Greg Clark warned more progress is needed before full powers are restored.
Since the findings of reports by Louise Casey and Alexis Jay into failings in Rotherham, all executive functions of the council have been exercised by government-appointed commissioners.
Now, the Lead Commissioner has advised that a number of services are operating at an adequate enough standard and have sufficiently strong leadership in place to be transferred back to local democratic control.
Communities Secretary Greg Clark said:
The failings at Rotherham council were a shocking dereliction of care that should never be repeated.

The improvements that have been made mean it is now appropriate for councillors to take back control over some functions – a step towards a stronger future for Rotherham council and the community it serves.

But let me be clear – there are still significant challenges that must be overcome before local people can have confidence in their council once again.
Returning powers to Rotherham
In February last year, the government appointed 5 commissioners to exercise all executive functions and some key non-executive functions at Rotherham council.
Following consultation, today elected councillors take back control of:
education and schools; education for 14 to 19 years in all settings; school admissions and appeal system; youth services
public health
leisure services; events in parks and green spaces
customer and cultural services, libraries, arts, customer services and welfare programmes
housing
planning and transportation policy; highways maintenance
the council's area assembly system and neighbourhood working; responsibilities under the Equalities Act
building regulation, drainage, car parking; business regulation and enforcement (not including licensing); emergency planning
financial services, including revenues and benefits (not including audit), ICT; legal and democratic services; corporate communications; corporate policy; procurement
policy arising from Sheffield City Region
In November Sir Derek Myers, Lead Commissioner, identified these functions as operating to an adequate standard, having sufficiently strong senior officers in place, and having suitably strong leadership from councillors to be transferred back to the council.
Sir Derek Myers said:
A large number of improvements have been made to services over the past year, supported by the Advisory Cabinet, and the new management team in Rotherham is taking shape with a new chief executive now in place. The significance of these changes is not to be underestimated.

Before we hand back further powers, we need to be absolutely certain that councillors are fully prepared, services are stable, and that the council has the public's confidence. Whist the pace of improvement has been good, there is much more to do in some areas.

At this time we don't propose to hand back those services which we know still need improvement, including children's social care. Although further progress is both necessary and expected, a good start has been made, and I would like to commend the staff of the council and members for their continuing efforts and their positive commitment to work with commissioners in the public interest.
Further information
On 21 January Communities Secretary Greg Clark sent a letter to Rotherham council setting out his intention to return some functions.
Now a written ministerial statement from Mr Clark has confirmed new Directions have been published that return some functions to the council.
The returned functions do not include those such as licensing; children's social care (including all services relating to child sexual exploitation); adult social care; audit; and other functions such as licensing which still remain high risk.
The 4 commissioners charged with the day-to-day running of Rotherham council are:
Lead Commissioner - Sir Derek Myers
Children's Social Care Commissioner - Malcolm Newsam
Supporting Commissioner - Mary Ney
Supporting Commissioner - Julie Kenny CBE
Office address and general enquiries
2 Marsham Street
London
SW1P 4DF
Contact form http://forms.communiti...
General enquiries: please use this number if you are a member of the public 030 3444 0000
Published 11 February 2016