News story
Lima Chamber of Commerce hosts talks on climate change
With Peru hosting the 2014 UN Climate Summit, Peruvian companies discussed a recent study by the Intergovernmental Panel on Climate Change.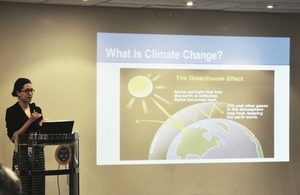 Inspired by Peru's successful bid to host the United Nations Climate Summit in Lima next year (20th session of the Conference of the Parties to the UNFCCC, also known as COP20), the Lima Chamber of Commerce, the British Embassy, the Ministry of Environment and the Ministry of Foreign Affairs organized a breakfast event on 24 October to involve business in the discussion of important aspects of climate change.
Scientist Lucy Hayes from the UK Government's Department of Energy and Climate Change (DECC) presented the latest report produced by the UN's Intergovernmental Panel on Climate Change (IPCC), highlighting that the last three decades had seen progressively higher temperatures than any other previous decade since 1850. Furthermore, the alarming results of this report show that on March 2011 the levels of CO2 were 391 ppm and now they are almost 400 ppm.
The South American Representative of the Intergovernmental Panel on Climate Change (IPCC), Mr Eduardo Calvo, explained that the immediate reduction of greenhouse gas emissions is essential if we are to reduce the need for adaptation in the future.
On the Peruvian carbon market experience, Luis de la Torre from REPSOL YPS highlighted how his company earned carbon credits under a programme of fuel switch from residual 500 fuels to liquefied petroleum gas (LPG). Likewise, Freddy Ramirez from hydropower plant GEPSA explained the economic benefits of the La Joya investment carbon credits registered through the clean development mechanism of the Kyoto Protocol.
Nadia Wagner from MICROSOL discussed the company's efforts to improve quality of life in highland areas where a lack of eco-friendly technology exposes inhabitants to high amounts of carbon monoxide. Finally, Lorenzo Eguren from ONCE gave an overview of the current situation of the carbon market worldwide and in Peru.
PHOTO GALLERY: Please click here.
Climate change documents (Spanish)
You can access the following material presented at the Lima Chamber of Commerce conference:
Published 14 November 2013
Last updated 20 November 2013
+ show all updates
Added translation
First published.