World news story
LIGHTS, CAMERA, YOUTH, ACTION!
British High Commissioner brings Successor Generation Initiative to Sabah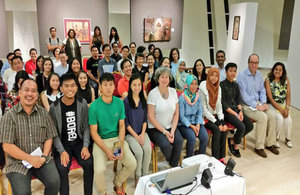 The British High Commissioner to Malaysia, Her Excellency Vicki Treadell, hosted a youth engagement event called "Lights, camera, youth, action!" in Sabah last week
The event was a celebration of proactive youth, community empowerment and local film making. Three groups of community filmmakers from Sabah screened short films highlighting community issues and climate change concerns. This set the scene for a dialogue where youth participants shared their views on the topics concerned.
The dialogue was moderated by Adrian Lasimbang, Orang Asal Rights activist and renewable energy developer and practitioner. Melissa Leong, Festival Director of Borneo Eco Film Festival (BEFF) also gave a short talk on the community film making.
The British High Commission organised the film screening and dialogue as part of its youth engagement programme called the Successor Generation Initiative (SGI) which was launched earlier this year. SGI provides opportunities to develop leadership skills, attend high-profile round table discussions and exclusive networking events. Through SGI, youths are given the opportunities to have their voice heard.
The British High Commissioner was in Sabah as part of her state engagement programme, where she visits different states in Malaysia to engage leaders from the state government and opposition party. She also takes the opportunity to meet representatives from the local NGOs, youth and women's groups during these visits.
About the films:
"Mastal Arikik" by Wanita Pulau Omadal (WAPO): Heart-warming tale of a young boy living on Omadal Island, who at a tender age is already helping to educate the island's children by working as a teacher in a local primary school.

"Kisah Budak Jalanan" by Greens Semporna: Filmed in Semporna, it reveals the desperate circumstances faced by local stateless children - who often have no opportunities to receive education, exist well below the poverty line, and turn to drugs from a very young age as a means of coping with their harsh realities.

"Climate Change – Do You Care?" by Green Voices of Borneo: Climate change from the perspective of communities in Sabah, recently screened at COP21 in Paris
Published 17 December 2015