Light Dragoons step up mentoring in Helmand
Members of the Light Dragoons are swapping reconnaissance for police mentoring to bolster the path of transition in Helmand. Report by Richard Long.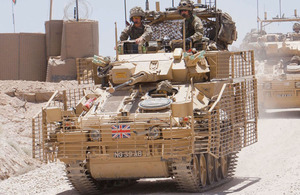 Boasting a proud recent history as a distinguished reconnaissance regiment, the Light Dragoons have trained diligently for another tour on the outer extremes of Helmand province.
While working remotely has become a reality for elements of the Norfolk-based unit on Op HERRICK 16, others have seen their job description change significantly after less than two months in theatre.
Having deployed to southern Afghanistan in a formation reconnaissance role, personnel from A Squadron are now playing their part in the continuing transition effort after accepting a new tasking within the Police Mentoring and Advisory Group.
Speaking about the move and how they are preparing for the challenge that lies ahead, on the eve of their training in Camp Bastion Lieutenant Jamie Harle said:
It was very much last minute but we are eager for it. I deployed on my last HERRICK in 2006 and that was all kinetic, but anyone thinking this tour would be the same is misguided. This is all about transition.
The Afghans we have spoken to are really proud of what they are doing; they want to return security to their family and friends.
We were undertaking screening tasks in the desert, identifying areas of population and routes, while providing a visible deterrent. It was very successful but the main effort has switched for us.
We are now focusing on expanding the mentoring side so the locals can look after these routes and population centres themselves.
Op HERRICK 16 is the third Afghan deployment for Corporal Scott Mallen and the junior non-commissioned officer thinks the timescale for transition is achievable after witnessing the progress that has already been made.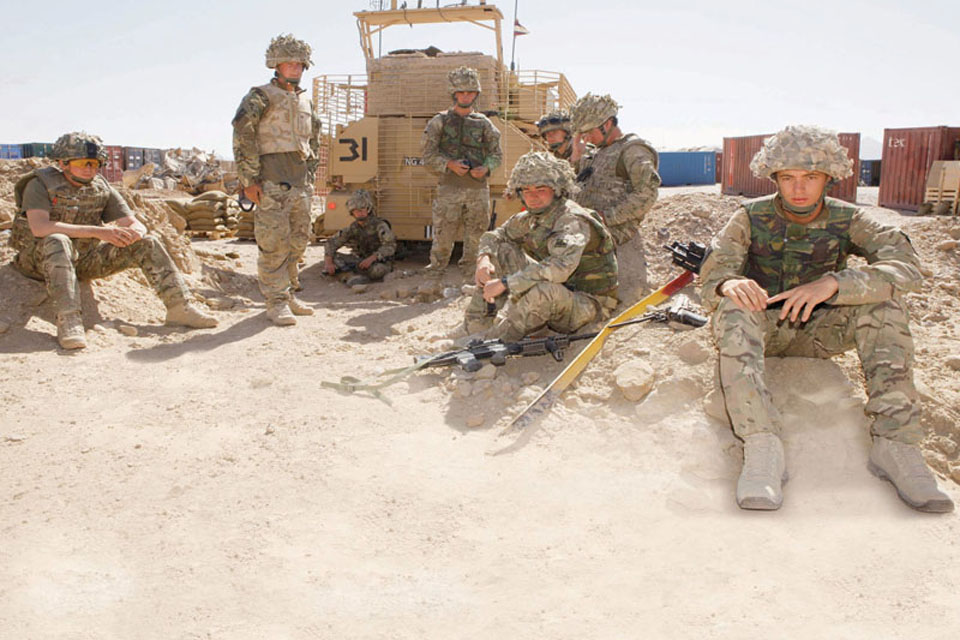 And with the situation on the ground changing, he believes A Squadron can add to the success in its new role training the Afghan Police:
From what I have seen everything is shaping up for the handover," he said. "It has quietened down in terms of kinetic activity and that is one of the main reasons why forward reconnaissance is coming in.
At the end of the day the Afghans want a better life. The country's army is up and running and the ANP [Afghan National Police] are now manning checkpoints in certain areas.
On Op HERRICK 5 it was really kicking off and we were the Brigade Reconnaissance Force on Op HERRICK 10. That was lethal and everyone had a hard time.
The fact it is now quieter shows we are doing a job out here. The ANP are performing their role and they are not afraid to have a go.
While these soldiers are relishing the opportunity of testing themselves in a new environment, the remainder of the squadron will continue with their formation reconnaissance day job.
This brief has seen them providing overwatch for ground forces, pushing forward on scouting missions and playing a key role in identifying enemy positions.
Soldiers of 3rd Troop at Forward Operating Base Ouellette have discovered that life on the ground is very different to previous tours:
I was here on Op HERRICK 10 and it was kinetic every day, but now it is quieter and the enemy are on the back foot," explained Trooper Neil Nutton.
Babaji was a Taliban stronghold; we took that and I think it has broken them. We are getting tighter and tighter on them and all they can do is 'shoot and scoot'.
Operating in Helmand province has become a family affair for the soldier.
His brother Trooper Anthony Nutton is serving with B Squadron of the Light Dragoons as part of the Brigade Reconnaissance Force, while older sibling Rifleman John Nutton, 2nd Battalion The Rifles, deployed on Op HERRICK 15:
I met John in Camp Bastion and he said hardly anything happened during his tour. He only had a few contacts and did a lot of patrolling with the ANP, " said Trooper Neil Hutton.
I thought that couldn't be right, but I believe it now, it has been quiet. In the formation reconnaissance squadron our main role is to go out and see what the enemy are doing, to see where they are and where the IEDs may be.
We can do that for a couple of weeks if needed - it is about building the picture and getting information ahead of any operations. We are the eyes and ears of the battle group.
As well as taking the fight to the enemy, the tour has reaffirmed the positive role being played by the Army within Afghan communities.
Attached medic Lance Corporal Lee Robson, Royal Army Medical Corps, was delighted to report that he has seen a distinct lack of British casualties in the area thus far, meaning his attention has been focused elsewhere.
He said:
I have been hands-on with the locals, treating children and adults for minor ailments through to serious injuries such as broken ankles.
As a medic it is always nice to offer help to anyone, especially if they have no healthcare system of their own.
It all goes back to the hearts and minds mantra. We are showing them that we are not a force to be frightened of - we are here to help.
Soldiers from A Squadron have again proved how the British Army is producing personnel that can adapt to a variety of roles in the heat of Helmand province.
And with transition set for 2014, the efforts of these troops over the coming months will go a long way to ensuring this ambition becomes a reality.
_This article is taken from the July 2012 edition of Soldier - magazine of the British Army. _
Please tell us what you think about government news on the web by filling in the short survey at Related Links.
Published 9 July 2012
Last updated 14 December 2012
+ show all updates
Added pics

This news article was converted to a news story