Lift off for jobs in Herefordshire
Innovative Enterprise Zone brings new investment to local area Communities Secretary Eric Pickles has praised the innovation and 'can-do' attitude…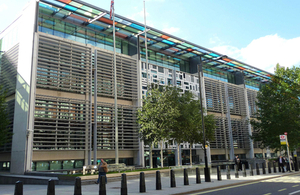 Innovative Enterprise Zone brings new investment to local area
Communities Secretary Eric Pickles has praised the innovation and 'can-do' attitude of Hereford Enterprise Zone for teaming up with global aerospace companies to create local jobs and stimulate growth.
Hereford Enterprise Zone
Hereford Enterprise Zone has been promoting the strengths of the local area as a hotspot for high tech businesses investment, which includes immediate tax breaks for companies.
After seeing the huge benefits available, two global Aerospace companies, Tbilisi Aerospace Manufacturing based in Georgia and MARKET-MATS from the Ukraine, recently announced ambitious plans to locate in the area.
The move signals a major step forward in development of the Hereford Enterprise Zone with the potential to create hundreds of new jobs, bring wider benefits to the local area and mark out Herefordshire and Britain as a great choice for businesses across the globe.
Yesterday the Communities Secretary met with the Governor of Washington State, Christine Gregoire, representatives from Herefordshire Council and the Aerospace companies to welcome the planned investment into the Hereford Enterprise Zone and wider Herefordshire area.
Communities Secretary Eric Pickles said:
This agreement shows that our low tax, light-touch regulation Enterprise Zones and Herefordshire's 'can do' ambitions are a great combination that business are eager to take advantage of - Tbilisi Aerospace Manufacturing and Market-Mats will bring new jobs to the area and energise the local economy.
A new generation of 24 Enterprise Zones with simplified planning rules, super-fast broadband and tax breaks for businesses, now span across England. The Zones are helping to create conditions to stimulate growth and have the potential to create tens of thousands of new jobs by 2015.
Images
Published 12 July 2012