Life-saving defence technology awarded
A lightweight oxygen generator developed to save lives on the front line has won first prize at the Engineer Technology and Innovation Awards 2011.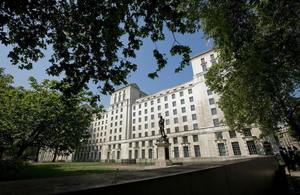 The award for best collaboration in the field of defence and security was presented to Cambridge Design Partnership and the Defence Science and Technology Laboratory's (Dstl) Centre for Defence Enterprise (CDE).
CDE is a gateway to the Ministry of Defence from academia, industry and independent inventors to help provide a rapid response and support to anyone with exceptional innovative ideas that can help Defence.
Cambridge Design Partnership is a technical consultancy with a strong track record of designing breakthrough medical devices, but this was the first time it had worked with the MOD.
Research by Dstl showed how blunt force trauma survival rates increase significantly when oxygen is administered, but there is a need for a lightweight solution appropriate for the front line.
As a result, Cambridge Design Partnership designed an integrated oxygen concentrator powered by a micro-diesel engine instead of a heavy battery. It is now working to further the technology, and it sees wider opportunities for supplying the oxygen generators for civilian use, such as search and rescue operations, disaster relief and ambulances.
The Frontline Oxygen project fought off strong competition from OmniPerception and Canard Design for a facial recognition system, and a naval decoy launcher developed by Chemring Countermeasures and Roke Manor Research.
David Foster from Cambridge Design Partnership said:
This award stands as recognition for the hard work undertaken by the Cambridge Design Partnership team in conjunction with the Centre for Defence Enterprise. The CDE is a great example of a British institution helping to foster the kind of innovation found in forward-looking design firms.

In the oxygen generator we've created something that has the potential to save a great many lives. This innovation would not have been possible without the clear guidance and collaboration of the CDE.
Published 5 December 2011