Life in the world's busiest trauma hospital
An international team of doctors and nurses is keeping on top of trauma treatment at Camp Bastion hospital in Afghanistan with help from teams in Birmingham and York. Report by Ian Carr.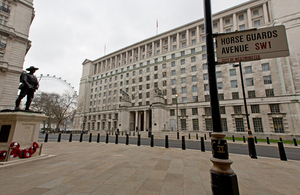 On the wall of Colonel Robin Jackson's office is a map of Task Force Helmand (South West) with the Role 3 hospital at Camp Bastion in the middle surrounded by concentric circles, like a target.
These are range rings. Each circle shows at a glance the distance a Medical Emergency Response Team (MERT) can cover in a set time to reach a casualty.
The first boundary is ten minutes - five minutes out, and five back again. And every minute matters.
When a call comes in saying that casualties need to be evacuated, a range is taken from the map and the nearest appropriate aircraft is deployed.
Bastion is served by British MERTs whereby casualties are collected in Chinooks with Apaches providing escort protection, or Pedros where US Black Hawk helicopters are deployed:
They each have pros and cons," said Colonel Jackson, 207 Field Hospital's Commanding Officer.

MERTs are probably quicker in a straight line, but probably take longer to get off the ground and they have to wait for the Apaches to fire up. On the other hand a MERT has more medical equipment on board, a Pedro just carries medics.
Camp Bastion's hospital is the busiest trauma hospital in the world:
We deal with 60 per cent of all ISAF, local, Afghan security forces and other casualties in Regional Command (South West), which is a 400-square-kilometre area within a 25-minute flight time. Although we can work out to an overall two-hour flight limit," said Colonel Jackson.
On the flight back to Bastion the casualties receive treatment, such as blood transfusions:
We are always striving to improve, but the MERT is about as good as it gets," he added.

When patients arrive they are assessed in a highly co-ordinated way, you could describe it as a medical pit stop. The staff are military as well as being medically trained so skills and drills are second nature.
There are ten field hospital teams which rotate on a five-year cycle to staff Bastion's main hospital. Most of these are UK and American, but there are plenty of other nationalities such as Danish, Estonian and Georgian represented.
Treatment needs to be of the highest order, so it's not surprising that a wide range of clinical specialisms can be found here. There is even a paediatrician from Great Ormond Street Hospital on the team.
It also explains why there is such a high proportion of Reservists from the NHS (50 out of around 220) to be found on the wards:
But no-one knows or cares whether you are TA, Regular, British or American," said Colonel Jackson.
This need for specialisms can produce oddities:
At the moment we have the previous Commanding Officer [CO], Colonel Bhatnaga, who has rejoined us as a consultant physician, the current CO - me, and the future CO, Lieutenant Colonel Kerry Trow, who will take over from me in the Spring, all here all at once!
Although this is the busiest trauma hospital in the world, 40 per cent of the patients are being treated for non-battle injuries, such as chest infections or sports injuries:
Our role is to provide damage control surgery. We either make people well enough to return to unit, or we stabilise them sufficiently so they can refer on to Queen Elizabeth Hospital in Birmingham.
There is a close connection between Bastion and Birmingham. Every week a feedback teleconference is held to discuss medical issues and share expertise. Lessons learned are fed back into the NHS system.
Bastion hospital also has close links with the Strensall Army base near York where an accurate replica of the Role 3 hospital has been built.
Before deploying, multinational teams of Regulars and Reservists complete an arduous period of training and testing there over three increasingly complex and demanding exercises.
But it's more than just training. Every team that deploys to Bastion must first pass the Strensall test and be signed off as competent:
We send back small teams from here to update scenarios and we have a bimonthly VT conference with Strensall to keep them swept up with the situation here," explained the Colonel.
All staff have had the Strensall experience and describe it as exacting but superb as it means they have already built a team spirit and been exposed to the high-pace environment before they arrive at Bastion.
Majors Simon Davis and Heather Tysall have played a huge role in developing Strensall's excellence. Major Davis spent two years there and describes it as:
The jewel in the crown when it comes to pre-deployment training. It does as much as you can to prepare someone for the shock factor of battle.
US Navy nurse Mukendi Kuditshini agrees. It's her first time in Afghanistan:
Strensall was good training. We don't have anything like that in the US. Before that all I'd dealt with was trauma caused by baseball or car accidents. But this here, this is real trauma.
As well as clinical improvements, the overall trend of better kit and medical training for troops is making a real difference in terms of patients' survivability.
This article is taken from the April 2011 issue of Defence Focus - the magazine for everyone in Defence.
Published 7 April 2011