News story
Life as a GLD legal trainee
Adam Paine is a GLD legal trainee; he is coming to the end of his first year of his 2 year traineeship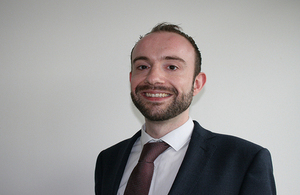 Adam worked as a civil servant for 10 years before deciding to retrain as a government lawyer while he was on secondment to the Department for Transport shipping policy division:
I worked on the controversial Boatmaster's Licence regime, which replaced a centuries-old system on the Thames… Shortly after that I started working closely with the legal team and became fascinated with the work of government lawyers. After speaking with lawyers about their day to day job I felt inspired to change the direction of my career, and I enrolled in a part-time law degree.
Adam is currently in his second seat working in GLD's immigration team which is part of the Litigation Group:
It's a huge responsibility, you're representing the state so professional standards are absolutely vital. There is a huge work load, so being autonomous and able to manage your own workload is very important, especially as quality must be maintained. For me, it's shown me what I can achieve under pressure.
Before this, he was working in the Employment Group in an advisory role:
I've found it quite incredible working in the Employment Group as a lot of the cases revolve around the Equality Act. It's fantastic that equality is so deeply embedded into our society.
Speaking about the legal profession as a whole and its varying standards, Adam said:
I'm really impressed with the high standards of legal work we provide within the immigration team. The communication and organisation from senior management are great – GLD is one of the most focused and engaged organisations I've worked for in my career in the civil service.
During the 2 years, trainees go through 4 rotations each lasting 6 months, for trainee barristers one of these will be in Chambers. Two of the 4 seats will be contentious seats (usually litigation) and 2 of the seats will be advisory (usually client-based.) After he completes his training, Adam will complete 2 years in litigation followed by 2 years in advisory. This varies from the private sector where a trainee would specialise in one area of law from an early stage in their career. Adam commented:
At GLD expertise in different areas of law is valued…In private practice it's about applying the law, in the public sector it's about making it, I mean how incredible is that?
GLD is currently recruiting for trainee solicitors and barristers, you can find out more about the scheme and submit your application online.
Published 23 July 2015