The Foreign Office has confirmed that two British nationals were on board a commercial passenger plane which crashed at Tripoli International Airport on 12 May 2010.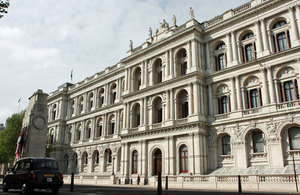 Afriqiyah Airways Flight 8U771 from Johannesburg had been due to land at 0610 local (0410 GMT). The plane crashed close to the airport.
We can confirm that there were two British victims. Both were dual nationals. We are also aware of reports of a third British victim. We are investigating these reports urgently.
The Afriqiyah Airways telephone help lines can be contacted on the following numbers:
From South Africa call +27 1050 01918
From Libya call +218 21 3341181
From the UK and rest of the world call +44 20 3355 2737
Alternatively visit www.flyafriqiyah.eu.
Published 12 May 2010