Libyan Air Force neutralised
The RAF's commander of the air operations over Libya, Air Vice-Marshal Greg Bagwell, has reported that the Libyan Air Force 'no longer exists as a fighting force'.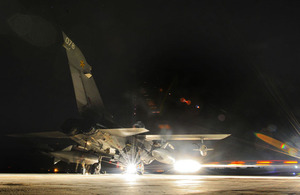 Speaking from Gioia del Colle air base, near Bari in southern Italy, earlier this afternoon, Air Vice-Marshal Bagwell said:
We are now applying sustained, unrelenting pressure on the Libyan Armed Forces. Their air force no longer exists as a fighting force, and its integrated air defence system and command and control networks are severely degraded to the point that we can operate over [Libyan] airspace with impunity.
As we continue to enforce the no-fly zone, we are watching over the innocent people of Libya and ensuring that we protect them from attack.
We have the Libyan ground forces under constant observation, and we attack them whenever they threaten or attack civilians or population centres.
With the arrival on Tuesday night of the RAF Tornado GR4 jets at Gioia del Colle air base, all UK fast jets currently assigned to Operation ELLAMY are now in place.
The presence of the Tornados together with the Typhoon fighters means that the UK can strike both air and ground targets as required, as part of the co-ordinated international operation authorised by United Nations Security Council Resolution (UNSCR) 1973.
The Chief of the Defence Staff's Strategic Communications Officer, Major General John Lorimer, said:
Published 23 March 2011