News story
LIBOR fines fund further 16 military good causes
Almost £2.5 million to go to the armed forces community – including those currently serving, veterans and families.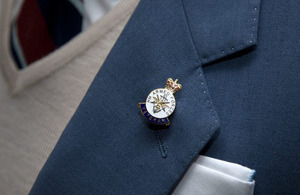 Armed forces charities and good causes are to benefit from the latest tranche of funding from the £35 million Armed Forces Covenant (LIBOR) Fund, the government has announced.
Sixteen military good causes are sharing almost £2.5 million in the latest allocation of the fines levied on banks for attempting to manipulate the London Interbank Offered Rate (LIBOR) benchmark.
This latest announcement means over £9 million in total has been given to Armed Forces good causes through the 49 charities that have secured funding.
The projects announced today will benefit the whole armed forces community, including those currently serving, veterans and families. The charities cover a diverse range of causes and will have an impact across the country.
The Chancellor of the Exchequer, George Osborne, said:
I am delighted that we have been able to provide this support to the armed forces charities, those that demonstrate the best of British values.
It is right that these fines, levied on banks for manipulating the LIBOR rates, will be used to provide those serving, veterans and their families with the support they need.
The Armed Forces Covenant sets out the relationship between the nation, the state and the armed forces. It recognises that the whole nation has a moral obligation to members of the armed forces and their families and it establishes how they should expect to be treated.
The government allocated £35 million to the Covenant Reference Group to support the Armed Forces Covenant. The remaining funds will be allocated over the next two years. The allocations will be completed by March 2015.
Details of projects which have benefitted from previous allocations from the LIBOR fund are available online.
The list below sets out the selected causes and charities that will receive the funding.
Blind Veterans UK will receive £1,000,000 to refurbish their Brighton Blind Veterans Centre which provides veterans with accommodation and care services. This project will improve the quality of life for both permanent residents and those visiting on short stays.

Royal British Legion Industries will receive £241,000 to deliver their LifeWorks for Families programme which will help Armed Forces spouses to understand the skills they have and build their confidence to sell those skills to an employer.

British ex-Services Wheelchair Sports Association will receive £66,678 to support a programme of rehabilitation through sport. The funds will allow for the purchase of daily use and sport wheelchairs for those who have been physically or mentally injured in or out of service, contribute to ongoing training including facilities, and fund attendance to major sporting events.

North East Hampshire Domestic Violence Forum will receive £59,380 to develop a Domestic Abuse strategy toolkit for use by Armed Forces and civilian services responding to disclosures and suspicions of domestic abuse involving serving or veteran families in North East Hampshire.

Music in Hospitals will use £32,400 to provide 120 concerts for veterans in care establishments.

The Not Forgotten Association Adventurous Activities will receive £25,000 and will provide adventurous activities for wounded serving and veterans with the opportunity to take part in three adventure activities - Cataran Trail, canoeing on the River Spey and Malta Historical Tour.

The CHICKS programme will receive £23,520 to fund respite breaks for 32 children aged between 8 and 15 from families affected by service-related injury or bereavement.

South West Scotland RnR will receive £30,000 to fund activity holidays to help wounded combatants recover from physical, emotional and mental injuries and experiences.

Dame Agnes Weston's Royal Sailors' Rests will receive £133,236 to provide support to families through the employment of two Community Workers. They will also refurbish the Braeholm Family Centre – which offers accommodation, café, leisure and family/group facilities.

Dame Agnes Weston's Royal Sailors' Rests will also receive £16,900 to upgrade facilities for various family groups around the country including Families centre Braeholm, Helensburgh Scotland, PJHQ Northwood, RM Poole, RNAS Yeovilton, CTCRM Lympstone and RM Stonehouse, Plymouth.

RAF High Wycombe Childcare, will receive £150,000 to convert an unused building into a childcare facility and play centre for children of service personnel providing term time after-school sessions and holiday activities.

Innsworth Welfare Centre will receive £10,000 to deliver a kitchen for use by families visiting the Welfare Centre.

The Army Widows Association will receive £60,000 to fund an activities coordinator who will organise a range of national, regional and local activities for members.

£27,488 will fund a horticultural therapy project at RAF Honington. Service personnel at Honington, Barnham and Swaffham camps will benefit as well as those who travel to Honington from across the country to use the Regional Rehabilitation Unit.

Cruse Bereavement Care will receive £518,810 to develop support services for military families, including a pilot military family peer support programme and the development of self-help resources.

The RAF Benevolent Fund will receive £75,000 to roll-out to RAF main operating bases the provision of pre-emptive professional relationship guidance for couples.
Published 10 September 2013