Liam Fox - we need to be in Afghanistan
New Defence Secretary Dr Liam Fox has spoken about the national security reasons for the UK military being in Afghanistan and praised the bravery and professionalism of troops in Helmand.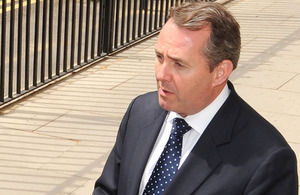 Dr Fox was speaking on the BBC Radio 4 'The World This Weekend' programme yesterday. He said:
When I took up this job last week, I immediately asked myself first of all, do we need to be in Afghanistan, and my answer was yes, for reasons of national security, because we don't want Afghanistan once again to be used as a safe haven for terrorists who could launch attacks against this country or others and we saw that before in 9/11.
Explaining his view of what success in Afghanistan is, Dr Fox said:
Success means a stable enough Afghanistan, able to manage its own internal and external security without our involvement there.
That means getting the Afghan National Security Forces up to strength, training them as quickly as we can so that they can carry out that role of their security and we can come home.
General McChrystal, in his plans, always suggested that during the next 18 months or so, when we've seen the big American increase in troop numbers and we've seen the big increase in equipment there and we've seen the continuing activity against Al-Qaeda and related groups on the Pakistan border, we would get an idea of how achievable our mission is.
So we've simply got in that period to give the full support to the coalition. Remember, it's a coalition of over 45 countries. We need to be ensuring that we are not territorial about what happens and that we do regard it as a global security mission.
Speaking about the role of UK troops in Helmand, Dr Fox said:
I think that we should be having our forces deployed where they are going to have the greatest effect in terms of the overall strategy of the coalition and I don't think we should be precious about that.
Our troops have done a wonderful job in Helmand, talking to American commanders there. They are extremely impressed now that they're on the ground in Helmand and seeing the difficulty of the conditions. They're very impressed about how bravely and professionally the British forces have operated.
Published 17 May 2010