News story
Level crossing near miss, Waltham Cross
Near miss with a pedestrian, Trinity Lane footpath crossing, Waltham Cross, Hertfordshire, 29 November 2016.
This news article was withdrawn on
This item has been moved to the National Archives as RAIB has published its safety digest describing this incident. See safety digest 05/2017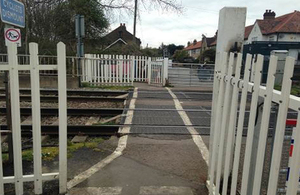 At around 11:55 hrs on 29 November, two pedestrians, one with a dog, were asked by a construction worker not to use Trinity Lane footpath crossing because their exit was temporarily blocked by construction works. When the work was complete, the worker allowed the two pedestrians to use the crossing. The pedestrian with the dog then crossed directly in front of a passenger train running from London to Stansted Airport.
We have undertaken a preliminary examination into the circumstances surrounding this incident. Having assessed the evidence which has been gathered to date, we have decided to publish a safety digest.
The safety digest will shortly be made available on our website.
Published 21 December 2016