World news story
Let's redouble our efforts - UK Energy and Climate Change Minister visits Japan
Rt Hon Edward Davey MP, Secretary of State for Energy and Climate Change, visited Japan from 29-31 May and met with METI Minister Motegi and Environment Minister Ishihara as well as key business leaders and MPs, including Chairman Yonekura from Keidanren.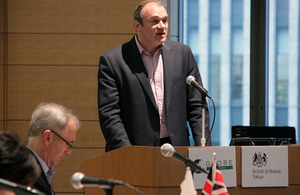 Rt Hon Edward Davey MP was the first Secretary of State to visit Japan since the Department of Energy and Climate Change (DECC) was created in 2008. A highlight of the programme was the GLOBE Japan Symposium which took place on the 30th May where he delivered a speech to 120 Japanese parliamentarians and senior representatives from Japanese government, business, media and academia, emphasising opportunities for businesses and the importance of taking climate actions now.
Excerpts from Rt Hon Edward Davey's speech at the GLOBE Japan Symposium:
Climate change is something that can seem far away - not just in terms of distance but also time. But it's real and it is happening now. Global temperatures are rising by over half a degree in the last 50 years and weather patterns are changing, with the risk of extreme weather increasing. As island trading nations, both Japan and the UK are uniquely exposed to climate change. We are dependent on the global market for prosperity- for food, for energy and for many of the products our citizens rely on. We understand how run-away climate change can threaten everything we have built.
We are often told that those who go low-carbon first will sacrifice their competitiveness. But the reality is that this is a boom market of £3.3 trillion, growing at 3.7 % a year. This drive for low-carbon energy can be a real engine of growth for hard-pressed economies around the world. And key to driving this growth are ambitious legally binding targets. Legislation creates the clarity, certainty and confidence that the action promised will actually happen. National laws that set out our own national pathways to clean energy future will leverage investment, bring jobs and drive faster growth.
Japan has played a vital leadership in the international climate negotiations to date. As we turn our collective attention to 2015, the UK is keen to continue to work with Japan as a close ally in order to secure a global deal. Let's redouble our efforts, now, so by 2015, signing a new global law - a legally binding treaty - becomes much easier for governments around the world, thereby making a real difference in peoples' lives and shaping our world in the years to come.
Published 13 June 2013
Last updated 13 June 2013
+ show all updates
Added translation
Added translation