Let's make 'Fish the dish' for 2013
A campaign to encourage the UK to eat more fish has been backed by UK Fisheries Minister Richard Benyon today. The 'Fish is the Dish' campaign…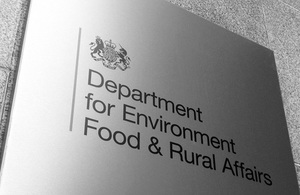 A campaign to encourage the UK to eat more fish has been backed by UK Fisheries Minister Richard Benyon today.
The 'Fish is the Dish' campaign which is currently being run by Seafish, the body which supports the UK seafood industry, targets parents and encourages them to introduce fish as a main part of their children's diet. This will make them more likely to continue to eat fish through adulthood, which will be good for their health and the health of the industry.
Visiting Seachill fish processing factory in Grimsby today, Richard Benyon saw firsthand the top quality products they produce. He has also called on the public to make 2013 the most successful year ever for the UK fishing industry, by making fish a central part of their diet.
The Minister was also keen to promote different types of species that are not normally found on dinner plates but are plentiful in our seas. Currently Brits favour Salmon, Cod, Haddock, Tuna, and Prawns while there are many other species such as Saithe, Hake, Whiting, Ling and Gurnard that also make an excellent meal.
By making different species of fish a key component of people's diet this will allow British fishermen to target and land these more plentiful species to discard less fish and for our seas to be managed sustainably.
Fisheries Minister Richard Benyon said:
"Fish not only has many nutritional benefits but also supports many local communities up and down the country.
"Currently four out of five households eat fish at least once a month - I want to see that increase to twice a week.
"By trying different types of fish and buying British we can help ensure that this industry can thrive for years to come and boost the economy at the same time."
During the Ministers visit to Grimsby he was given a detailed outline of the campaign and its goals and was particularly impressed with the campaigns website which makes 'fish easy' by identifying simple recipes that can be made to everyone's taste.
Richard Benyon added:
"This is a great campaign that will help shape the eating habits of the next generation. It also highlights how easy it can be to cook an amazing fish dish at home without any difficulties."
Notes
Seafish's 'Fish is the Dish' campaign can be found at www.fishisthedish.co.uk/
The Seafood industry was worth £5.6billion to the UK economy in 2011.
Overall, the most popular species of seafood in retail is salmon, followed closely by tuna, cod, haddock and warmwater prawns then coldwater prawns.
The UK imports most of the seafood we eat. In 2011, a total of 718,000 tonnes of seafood worth £2.55 billion was imported into the UK.
The average price of imported seafood increased by 9% from 2010 to 2011.
The UK appetite for warmwater prawns in particular continues to grow with imports in 2011 up 11% by volume.
Imports reflect traditional and evolving UK tastes in seafood:
cod, haddock and other whitefish from Iceland, Norway and Denmark.
warmwater prawns from India and the Far East.
tuna from Mauritius and the Seychelles.
salmon from Faroe Islands and Norway.
salmon and pollack from the USA.
coldwater prawns from Greenland and Canada.
Published 30 October 2012