News story
Lending scheme delivers £1.1 billion boost to the economy
The latest news on government schemes helping small businesses access finance.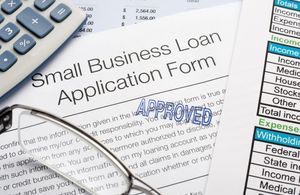 New independent research on the Enterprise Finance Guarantee Scheme (EFG) shows that it has helped over 10,000 businesses access £1.04 billion of loans since May 2010.
The EFG sees the government act as guarantor on 75% of individual bank loans between £1000 and £1m to small and medium sized businesses that do not have the adequate security for a normal commercial loan.
The study, by Durham Business School, has found that the EFG scheme has added £1.1 billion to the economy, and that for every £1 invested it has helped deliver £33.50. Researchers demonstrated that it has created 6,500 jobs, and safeguarded more than 12,000.
Business Minister Michael Fallon is calling on banks to increase their lending through this successful scheme. He said:
"Clearly the demand is there for this type of financial support so we must start to see an increase in take-up.
"I have already begun publishing EFG lending by each individual bank, because businesses should know which bank they are best off approaching and I will continue holding the banks to account until lending levels improve."
Events for investors and small businesses looking for tax relief
The EFG is one scheme implemented by the government to help small companies access the funds they need to grow. Other options for entrepreneurs and recent start-ups looking to access finance include the Seed Enterprise Investment Scheme (SEIS) and Start-Up Loans.
Find out more about the finance schemes available for small and medium sized businesses
SEIS helps small, early-stage companies raise finance by offering a range of tax reliefs to encourage individual investors to buy shares. It combines 50% income tax relief on the cost of these shares and a capital gains tax exemption from disposal of these shares.
There are 4 information events taking place before the end of tax year which will explain the scheme and look at other funding options available to both small business owners and would-be investors. The first is taking place in Oxford today. Future dates and locations are:
21 February, Reading Town Hall, Reading
5 March, The Emmanuel Centre, London (two events - morning and afternoon)
Visit School for Startups for details and to register for events.
Start-Up Loans supports its 1000th entrepreneur
This month Start-Up Loans, the £112 million government scheme created to help young people between the ages of 18 and 30 start their own business, supported its 1000th entrepreneur.
Charles De-Souza secured £1,500 to grow his events management business. Charles was forced to leave university due to very difficult personal circumstances. However, while there he discovered his passion for organising and running events and soon found employment in this area.
With 3 partners he founded Destined to Make it (DTMI) in 2012, a social business dedicated to youth engagement and development in the UK.
Thanks to the loan Charles and his 3 partners now have now have the plan in place to develop their business. While they have many clients they currently provide event management for, the loan means Charles and his team can plan and organise a theatre based arts festival for London's young people this summer, 'Young London'.
Alexandra Shaw, of Elevation Networks, the delivery partner who supported Charles in his application said;
"I'm delighted that we were able to offer Charles a Start-Up Loan and a place on the scheme. It is a great opportunity for him and his colleagues to move forward and take their business to the next level. I'm really excited to see what's next for DTMI and what they will become."
Further information
Published 19 February 2013