Press release
'Legal highs' to become class b drugs
A number of so-called 'legal highs' will become illegal class b drugs, the Home Office announced today.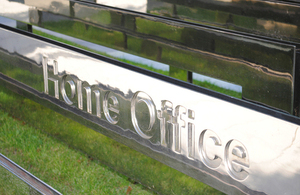 Following advice from the government's independent drug experts, the advisory council on the misuse of drugs (ACMD), new synthetic cannabinoids (such as those sold under the name 'black mamba') and methoxetamine (sold as mexxy) and its related compounds will be classified under the misuse of drugs act 1971.
The decision comes days after the ACMD recommended banning the substances because of their health and social harms.
Minister for crime prevention Jeremy Browne said:
'High quality scientific advice is vital to the government's ongoing work to tackle harmful drug use. The independent advice we receive from the ACMD is critical to our evidence-based drugs policy.
'The UK is addressing the harm caused by 'legal highs' by outlawing not just individual drugs, but whole families of related substances that have the potential to cause serious harm.
'People who take 'legal highs' are taking serious risks with their lives because often they do not know what they are taking and the drugs may contain harmful substances.'
Since March this year, methoxetamine has been subject of the UK's first temporary class drug order (TCDO) following advice from the ACMD. It will remain a temporary class drug until parliament approves its classification.
In its advice on methoxetamine the ACMD has indicated that the temporary ban may have had 'real and immediate impact on tackling internet sales of methoxetamine with a significant proportion of UK websites ceasing to advertise its sale'.
The government has also agreed to implement the ACMD's other recommendations on these substances including updating public health information on the drugs awareness website Frank, found at www.talktofrank.com.
Notes to editors
1. The government has also announced today that o-desmethyltramadol, which is used as a 'legal high', will also become a class b drug following a recommendation from the ACMD. Read the ACMD's advice on this here: http://www.homeoffice.gov.uk/publications/agencies-public-bodies/acmd1/ACMD-O-desmethyltramadol
2. To read the full advice from the ACMD on synthetic cannabinoids visit: http://www.homeoffice.gov.uk/publications/agencies-public-bodies/acmd1/synthetic-cannabinoids-2012
3. To read the full advice from the ACMD on methoxetamine visit: http://www.homeoffice.gov.uk/publications/agencies-public-bodies/acmd1/methoxetamine2012
4. Methoxetamine will continue to be banned until both the houses of commons and lords have debated the issue and the substances, including synthetic cannabinoids, become illegal - expected this winter.
5. More information about TCDOs can be found at: www.homeoffice.gov.uk/publications/alcohol-drugs/drugs/temporary-class-drug-factsheet
6. Both the home office's drugs early warning system (DEWS) - an information sharing network between authorities and drug and medical professionals - and its forensic early warning system (FEWS), which helps identify new substances, have played a key part in informing today's announcements.
7. ACMD is an independent expert body that advises government on drug-related issues in the UK.
8. The ACMD makes recommendations to government on the control of dangerous or otherwise harmful drugs, including classification and scheduling under the misuse of drugs act 1971 and its regulations. It considers any substance which is being or appears to be misused and of which is having or appears to be capable of having harmful effects sufficient to cause a social problem.
9. It also carries out in-depth inquiries into aspects of drug use that are causing particular concern in the UK, with the aim of producing considered reports that will be helpful to policy makers and practitioners. See the ACMD publications.
10. The ACMD was established under the misuse of drugs act 1971.
11. For more information contact the home office press office on 020 7035 3535.
Published 1 November 2012