Leeming's Air Traffic Control Squadron named best in RAF
The North Yorkshire unit was presented with the prestigious Raytheon Falconer Trophy earlier this month. Presented each year since 1982, the…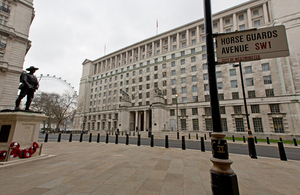 The North Yorkshire unit was presented with the prestigious Raytheon Falconer Trophy earlier this month.
Presented each year since 1982, the trophy is awarded to the RAF unit judged to have performed the best in a variety of areas including performance on an operational deployment, sporting achievements, charitable commitments, support to the station where the unit is based, and support to wider defence.
Although a relatively small squadron of 28 personnel, including 17 Air Traffic Controllers, more than a third of the members of RAF Leeming's Air Traffic Control Squadron deployed out of area during 2010/11.
Over the last year, the section provided routine support to units such as 100 Squadron, which operates Hawk aircraft, and the Joint Forward Air Control Training Standards Unit, but also controlled 395 visiting aircraft and 33 squadrons detached to the North Yorkshire station for exercises or training.
As well as providing a high level of performance on the air traffic control front, members of the squadron were heavily involved in community, station and charity events.
In his role as Royal Air Forces Association (RAFA) Liaison Officer, Senior Air Traffic Control Officer Squadron Leader Simon 'Tats' Tatters co-ordinated a team from RAF Leeming which cycled around Yorkshire to raise more than £2,500 for RAFA.
Other members of the squadron competed in the Great North Run and the Race for Life to raise funds for Breakthrough Breast Cancer and Cancer Research UK.
The squadron was also heavily involved in the RAF Leeming Families Day, with Senior Aircraftwomen Rebecca Crawford and Jennifer Bracewell commended for their efforts. On the sports front, members of the Air Traffic Control (ATC) Squadron competed in events including skiing and tri-Service rugby.
The Raytheon Falconer Trophy was presented to Squadron Leader Tatters by Mr Brian Cross, Director Air Traffic Management Systems, Raytheon UK. Squadron Leader Tatters said:
I am thrilled that the servicemen and women of ATC Squadron have been awarded the Raytheon Falconer Trophy.

It follows a frankly epic year, where every member of the squadron has played a pivotal role in supporting operations and exercise commitment, improving flight safety and working above and beyond.

We have been extremely fortunate and privileged to have AOBM [Air Officer Battlespace Management] and Mr Brian Cross from Raytheon UK to present the trophy and enjoy the squadron's hospitality during an excellent dinner.
Also attending the presentation was Air Commodore Jayne Millington, Head of Branch for Air Traffic Management (ATM), Air Battlespace Management and Flight Operations. She said:
The RAF Leeming Air Traffic Control Squadron has excelled in their routine operational task, whilst preparing many junior people for deployment to a range of operational theatres, as well as supporting complex exercises on station and in the surrounding airspace of great benefit to many aircraft and aviation forces.

The RAF Leeming Air Traffic Control Squadron's performance in winning the Raytheon Falconer Trophy has set a very high bar but has been a fantastic performance. I look forward to seeing how the ATM competition steps up to the plate in this coming year!
Published 27 February 2012