Lebanon: Special Tribunal for Lebanon indictments
FCO spokesperson comments on the Special Tribunal for Lebanon submitting a sealed indictment in the Hariri case to the country's prosecutor general.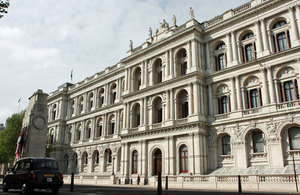 FCO spokesperson said:
"The UK is a strong supporter of the Special Tribunal for Lebanon and welcomes the passing of the indictments to the Lebanese authorities as significant step forward in the judicial process. We call on the Lebanese government to implement its obligations under international law and for all concerned to cooperate fully with the independent judicial process so that it can proceed in an atmosphere of calm. We agree with PM Mikati's statement yesterday that "all accused are innocent until proven guilty".
Published 1 July 2011