World news story
British High Commission launches Newton-Utafiti Fund
UK - Kenya partnership to strengthen links in science and innovation.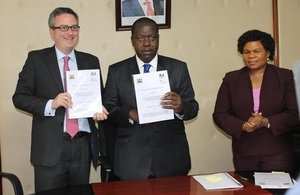 Kenya is set to benefit from a joint fund to support research, science and innovation in the country.
The governments of the UK and Kenya have today pledged to strengthen their collaborative partnership in research and innovation and launched the Newton-Utafiti Fund as part of the wider Newton Fund family.
A memorandum of understanding between the two countries was signed at the Ministry of Higher Education in Nairobi by Dr. Fred Matiang'i, the Kenyan Cabinet Secretary for Education, and Nic Hailey, British High Commissioner to Kenya.
The Newton-Utafiti Fund marks a step-change in the bilateral science relationship and will provide an important framework to increase each country's capacities in science, technology and innovation.
This will be achieved by increasing capability for individuals and institutions and further developing joint research and innovation programmes among academics, business, and government institutions.
Some of the key areas for collaboration under the Newton-Utafiti Fund include:
food security – including animals and plants, underutilised crops, value chain, post-harvest, production technologies, water, land management, agricultural and bio-technology

sustainable and renewable energy

health - including health systems research, mental health, non-communicable diseases, and re-emerging diseases

environment and climate change – including waste management, water, sustainable urban planning and development, sustainable construction, ecosystem services, adaptation and mitigation to climate change, carbon footprint analysis, climate services, and sustainable tourism

economic transition skills and jobs through manufacturing for SMEs – production costs, value-addition and agro-processing

cross cutting issues – including capacity building, big data, innovation and entrepreneurship.
Initial calls for proposals under the Newton-Utafiti Fund were opened by the British Council today. Their Country Director, Tony Reilly, said:
Kenya becomes the 16th country globally to participate in and benefit from the Newton Fund – joining Egypt and South Africa on the continent. The UK-Kenya Newton-Utafiti Fund will focus on clearly identified research priorities for Kenya, working with a range of UK partners in areas considered critical to Kenya's socio-economic development. The UK-Kenya Newton-Utafiti Fund provides a further opportunity to strengthen and deepen the already strong education ties between our two countries.
Speaking following the signing of the MoU, British High Commissioner to Kenya, Mr. Nic Hailey, said:
It's great to see Kenya and the UK working together to develop innovative solutions to real-world issues. This new equal partnership on science and innovation will see us harness our combined expertise to deliver a step-change as we face the challenges of the future.
Kenyan Cabinet Secretary for Education, Dr. Fred Matiang'i said:
We appreciate this development of a UK-Kenya research collaboration. The joint research programmes under the Newton-Utafiti Fund should encourage direct institutional links and collaborations between our respective higher education and research institutions. The research should produce quality outputs that in the end will inform policy and influence positive outcomes for the good of society.
Published 20 July 2016