World news story
Launch of the State of African Cities 2014 Report
This was published under the 2010 to 2015 Conservative and Liberal Democrat coalition government
Launch of the State of African Cities 2014 Report: Re-imagining sustainable urban transitions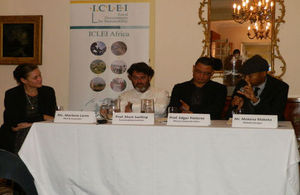 On 9 July, the British High Commission, in partnership with ICLEI – Local Governments for Sustainability – Africa, hosted the South Africa launch of the UNHabitat report entitled The State of African Cities 2014: Reimagining Sustainable Urban Transitions, the research for which was partly funded by the British High Commission. The report analyses African cities in the context of globally changing conditions and seeks to stimulate discussion on the need for radically different, re-imagined development visions to guide sustainable urban and other transitions in Africa over the decades to come. It is therefore an important stock take of the progress cities in Africa are making to reach their sustainability targets.
The South Africa launch in Cape Town highlighted the debates that are surfacing in urban sustainability discussions, including the African Region's Common Positions on the Post-2015 Development Agenda and the Sustainable Development Goals. Further it explored how the urban transition in Africa can be the key to implementing the new goals being set for the African Union's Agenda 2063.
British Consul-General Chris Trott commented at the launch of the report that "While there are challenges for African cities to cope with rapidly urbanisation, there are also opportunities to make the most of these developmental imperatives - resulting in cities that are more resilient to climate change. Cities are at the cold face of delivery and therefore our projects with cities have some of the most tangible outcomes, as we assist them to implement their low carbon targets."
Last year the British High Commission also funded a project that helped to install solar PV on public buildings in three of South Africa's biggest metros and another that looked at the business case for smart grids in Western Cape municipalities. The UK believes that all countries should be working together to reduce global emissions and supports countries to make the transition to a low carbon economy. For many African countries this means leap-frogging into clean energy technologies and policies.