World news story
Launch of the project on Missing Persons in Kosovo
Speech of the British Ambassador Ruairí O'Connell for the launch of the Missing Persons project.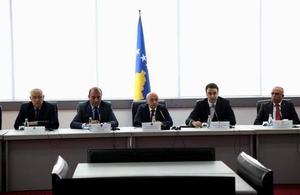 Dear Prime Minister, Dear Deputy Minister, Dear representatives of the Kosovo Institutions, Dear families of the Missing Persons, Ladies and Gentlemen,
I'm very honoured that today, together with the Prime Minister of the Republic of Kosovo, and all of you present here, we are launching one of the most important projects of the UK Government in Kosovo, to assist the Government of Kosovo, in identifying the fate of missing persons.
When I came to Kosovo, a friend told me about her pain when her grandmother went missing during the war in 1999. I promised her that I would pledge to help in the area of missing persons in order to alleviate the joint pain of, Albanian, Serbian, Roma, Ashkali, Egyptian, Bosniak and other families.
Ladies and Gentlemen,
The war left Kosovo with 6,044 missing persons from different religious and ethnic background. So far, over 4,000 were identified, some of them fortunately were found alive but majority were, unfortunately, either dead or missing. I would first like to thank everyone for their valuable contribution to finding over 70% of those missing, including: UNMIK, EULEX, ICRC, various European Governments, US, ICMP, families and the Kosovo and Serbian Governments.
But it is now 17 years after the conflict. There remain 1665 missing persons. The families of the missing have a right to know where their loved ones are.
History weighs heavily in the Balkans. People remember pain, remember injustice that happened to them and their families. That's natural, that's human. But we have to help society to heal its wounds. The first step is to listen to what people have to say, to acknowledge what happened, and then we can try to give them closure and the sense of justice.
There is no point in time at which a line can be drawn in the sand, and people can agree that the war and deep-seated grievances associated with it, are in the past. Some fear that to open old wounds when long term political settlement is a long way off would only further damage the relationships. But if these wounds never heal and remain open it will be hard to talk about these things when we still disagree with the future. If the wound stay open it will be hard to find peace.
As some of you may know when His Royal Highness The Prince of Wales visited Kosovo in March he met some families of the missing people. This was at his personal request. His Royal Highness was visibly touched by their personal stories and pledged to help them where he could.
I am worried that progress towards finding missing persons has stagnated. More could be done by everyone. Some activities that are very technical, straightforward and derive from the law on Missing Persons that was adopted in 2011, need to be completed. I urge the Government Commission for Missing Persons to complete the data entry in the central register of missing persons, which was generously supported by ICRC, and to finalise the secondary legislation, on the establishment of this central register and closure of cases.
To mark Human Rights Day, on the 10th of December, the British Embassy and Kosovo Government are launching a project to help solve these issues.
The British Embassy will work with our committed friends in the Government to strengthen capacities to deal effectively and efficiently with issues related to missing persons. We will help Kosovo Government to review the laws related to the issue and with the agreement of the Assembly amend them if necessary to create better mechanisms in order to identify missing persons. We will help increase cooperation between Kosovo and Serbia to promote the issue of missing persons as a common concern.
Dealing with the past is essential to build the possibility for a better future. I personally believe very strongly that it is impossible to build a better future if one does not acknowledge, listen to and try to solve the pain and wounds of the past. There will be challenges, it will be difficult. We all recognise this, but the only way forward is for everyone to work together. I know that Kosovo can, I know that societies across the Balkans can and we are here to help.
Thank you!
Published 9 December 2016