World news story
Launch of the Fourth UK National Action Plan on Women, Peace & Security 2018-2022
The UK and Japan co-hosted a forum to mark the launch of the fourth UK National Action Plan (NAP) and discuss UK-Japan collaboration on Women, Peace and Security, at the British Embassy in Tokyo on 15th March.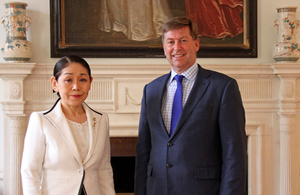 The event brought together officials from the Japanese Ministry of Defense, Cabinet Office and Japan International Cooperation Agency (JICA) working on the Women, Peace and Security (WPS) agenda. Members of Japan's NAP Evaluation Committee, Diplomats, UN agencies and international organisations also participated.
The British Ambassador to Tokyo, Paul Madden CMG, outlined the UK's commitment to the WPS agenda, noting that promoting global gender equality and empowering women and girls was a top priority for the UK government and in everyone's national interest. He called for strong international partnerships and emphasised the important role Japan can play.
Atsuko Nishimura, Ambassador in Charge of Women's Issues at the Ministry of Foreign Affairs, congratulated the UK on the launch of its NAP. She welcomed ongoing UK and Japanese cooperation and commitment to the WPS agenda, following up last year's WAW! event. Ambassador Nishimura also explained that Japan was reviewing its own National Action Plan in conjunction with civil society and other stakeholders.
Officials from the British Embassy and Ministry of Foreign Affairs presented the key elements of the UK and Japan NAPs. This was followed by a conversation between Dr David Ellis, Deputy Head of Mission at the British Embassy, and Ambassador Nishimura.
A number of key themes were highlighted during the presentations and subsequent conversation. In particular, the active involvement of civil society at all stages of the process was seen as critical, in addition to broad cross-government representation. Willingness to learn from the experience of previous NAPs was also essential. For the UK, central to efforts on gender issues internationally is a strong focus on girls' education. When working with other countries, it was vital to respond and adapt to the local environment and circumstances to maximise the impact of the NAP. This was the approach the UK sought to follow in the nine focus countries identified in its fourth NAP.
Dr Ellis and Ambassador Nishimura both looked forward to further cooperation between the UK and Japan and more widely, building on the momentum from this event and a previous WAW! 2017 Official Side Event co-hosted by the UK and Japan on Preventing Sexual Violence in Conflict and Global Action, held in October 2017.
Further details
Published 21 March 2018