World news story
Launch of the British Alumni Association of Cambodia
On 5 August, as part of this year's celebration of the 60th Anniversary of the British Embassy in Phnom Penh, Her Majesty's Ambassador Mark Gooding officially launched the British Alumni Association of Cambodia (BAAC).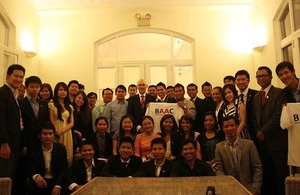 Speaking at the launch, Ambassador Mark Gooding said:
The establishment of the BAAC will further strengthen the excellent ties that exist between the UK and Cambodia. I welcome the increasing number of young Cambodians who studying at the UK's world class schools and universities. The BAAC will create a strong network for Cambodian alumni of UK institutions, and provide support and advice for young Cambodians who want to benefit from UK education in the future.
I am also delighted to announce three new Cambodian scholars under the British Government's prestigious Chevening Scholarship scheme. Chevening scholarships are awarded to the most promising and able young people around the world. This year we are increasing the number of scholarships with generous sponsorship from Prudential plc, a leading UK company operating in Cambodia.
The UK education system is world renowned for its excellence. The UK is home to the top four universities in Europe and four of top ten universities in the world. UK universities are world leaders in innovation and research, and have produced over 70 Nobel prizes winners.
Around 400,000 international students come to the UK every year to study, making UK colleges and universities some of the most diverse and cosmopolitan in the world. And the UK is the home of the English. A further 600,000 people come to the UK each year to study English.
Published 6 August 2013