World news story
Launch of the Better Regulatory Committee for the Business Enabling Environment Programme
Inauguration of the Better Regulatory Committee for the Business Enabling Environment Programme (BEEP)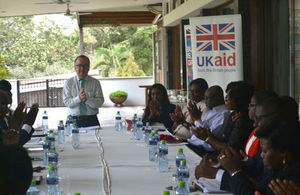 On Thursday 18 February 2016, Mr Jim McAlpine, DFID Ghana Country Director, inaugurated the Better Regulatory Committee (BRC) for the new DFID funded programme called Business Enabling Environment Programme (BEEP). This took place during a brief ceremony at the British High Commissioner's Residence. The committee of eminent Ghanaians who are well versed in investment climate reforms in Ghana has been set up to provide advice during implementation of the BEEP and it will be chaired by Mr Tony Oteng-Gyasi, Managing Director, Tropical Cable & Conductor Limited. Other members of the committee include Nana Osei Bonsu, Chief Executive Officer, Private Enterprise Federation, Professor Felix Asante, Director, Institute of Social Statistical and economic Research, Mrs Jean Mensa, Executive Director, Institute of Economic Affairs, Mrs Lucy Quist, Managing Director, Airtel Ghana, Mrs Mawuena Trebah, Chief Executive Officer, Ghana Investment Promotions Council and Mrs Madie E. Arkutu, Managing Director, Unilever Ghana.
Ghana currently ranks 114 out of 189 economies in the World Bank Ease of Doing Business Index. In order to continuously compete with its peers for investment and to facilitate the growth of local firms and formalisation of the large informal sector, Ghana needs to continue to provide a conducive environment for doing business.
The UK Department for International Development (DFID) and the Government of Ghana signed a Memorandum of Understanding for a new programme dubbed the Business Enabling Environment Programme (BEEP) on 26 October 2015. The BEEP programme will provide up to £10 million over a 4-year period (2015-2019) to help improve service delivery of targeted government institutions by providing them with the capacity to streamline administrative procedures and regulations aimed at reducing the time and cost businesses incur in complying with these. At the end of the programme in 2019 it is expected that DFID's support will make it easier and faster for private sector including small and medium enterprises to comply with regulation thereby further increasing Ghana's attractiveness as an investment destination. With increasing investment it is anticipated that further opportunities will be created for the poor e.g. in terms of new employment opportunities.
The Better Regulatory Committee (BRC) will play a key role including advising DFID and Government on reform priorities and focus as well as provide oversight on how supported reforms are progressing.
Published 25 February 2016