World news story
Launch of Thai-UK Business Leadership Council
Senior business leaders from Thai and British companies come together as the Thai-UK Business Leadership Council.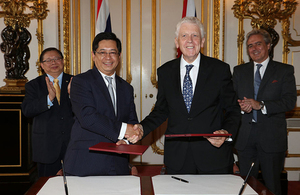 The UK Prime Minister's Trade Envoy to Thailand, Mark Garnier MP, and the Thai Prime Minister's Special Envoy, Mr Virasakdi Futrakul, announced on 12 July that they had invited senior business leaders from Thai and British companies to come together as the Thai-UK Business Leadership Council.
The two envoys made the announcement at a launch event at Lancaster House, London, in the presence of Thai Deputy Minister for Commerce Suwit Maesincee, and leading Thai and British company executives. The purpose of the Council would be to look for creative ways to encourage Thai and British businesses to build new and innovative partnerships, as well as encourage the governments of both countries to foster trade and investment in both markets. Working to an agenda set by business, not government, the Council would embrace, and work on behalf, of all businesses.
Mr Garnier and Mr Virasakdi said that the response from business from both countries has already been very positive. They looked forward to the inaugural meeting of the Council in the autumn of 2016. Speaking at the event, Mark Garnier MP said:
There is a natural fit between the commercial and economic goals of Thailand and the UK. Thai companies are looking for technology and investment opportunities in areas where the UK offer is truly world-class. UK companies are eager to build new partnerships both in Thailand, and with Thai companies in third countries. This underlines why now is the right time to launch this business leadership council.
Mr Virasakdi said:
For our two Kingdoms, "Trade leads the flag", our economic cooperation precedes and strengthens our diplomatic relations throughout history and we hope that it will continue so as we head into the fifth century of Friendship. With the support of Thailand-UK Business Leadership Council, the value of our trade and investment could be expanded greatly. Thailand pledges its full support for the Council.
Lending enthusiastic commitment to the initiative on the side of Thai business, Mr Tevin Vongvanich, President and CEO of oil and gas giant, PTT, said:
Close collaboration between the members will enable the identification of factors to enable trade and investment flows in both directions to be increased, perhaps through improvements in policies and regulations, which will result in great economic development and benefit on a bilateral basis, with potentially regional and global positive ramifications.
And reciprocating the commitment from the side of British business, Chairman of Rolls Royce's International Advisory Council, the Rt Hon Lord Charles Powell of Bayswater, said:
Such initiatives can take the relationship between countries, in particular from a business perspective, to a new level. Rolls Royce, like other UK companies, are committed to building long-term partnerships in Thailand and South-East Asia more broadly. Now is the right time to lay the groundwork for the future.
Further information
UK Trade & Investment Thailand
Follow British Ambassador Brian Davidson on twitter @brijdavidson
Published 13 July 2016