Press release
Launch of review into Council Tax support
A review into how local Council Tax support schemes are working across the country has been launched.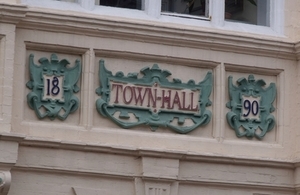 Former council leader and Member of Parliament, Eric Ollerenshaw, OBE, is to lead a review into how local Council Tax support schemes are working across the country and is calling for evidence from all interested parties.
Local Government Minister Marcus Jones said Mr Ollerenshaw would bring a wealth of experience to the role, and help make sure that the system is effective, fair and transparent.
The review follows the reform of Council Tax benefit to give councils the power to design their own schemes according to their local needs.
It will examine how this change has been implemented, what it's meant for people receiving this support, and whether it should be part of the Universal Credit payments in the future.
Local Government Minister Marcus Jones said:
As we continue our efforts to cut the deficit, we're determined that support is available for those who need it most and councils, with their expert knowledge of their communities' needs, are best placed to do this.

That's why we put power in the hands of local authorities to offer local Council Tax support to people in their area – this independent review is about understanding how this has been implemented over the past 2 years, and how areas could learn from each other.

So I'm delighted that Eric Ollerenshaw, with his decades of experience at Hackney council, the Greater London Assembly and as a Member of Parliament, has agreed to chair this independent review.
Review chairman, Eric Ollerenshaw OBE, said:
I am delighted to be given the opportunity to lead on such an important review. The localisation of Council Tax support was a significant change implemented under the coalition government.

The review's findings will be based firmly on evidence gathered from a diverse range of sources. I urge all interested parties to make sure their voices are heard by submitting evidence to the review team. I also intend to meet with a selection of local authorities to obtain on-the-ground insight into how LCTS has been delivered to date.
See the Independent review of local Council Tax support schemes: terms of reference (PDF, 216KB, 1 page) .
Further information
Eric Ollerenshaw OBE is a former council leader, MP, and member of the Greater London Authority. His 2-decade career in local government began in 1990 with his election to the council of the London Borough of Hackney, a role he kept for 17 years.
Mr Ollerenshaw has also had a rich career in education, working as a teacher for 30 years in 3 London comprehensive schools, and becoming an elected member of the Inner London Education Authority. More recently, he has been an MP for Lancaster and Fleetwood (2010 to 2015), chairing a number of All-Party Parliamentary Groups and becoming Parliamentary Private Secretary to Baroness Warsi.
The review team encourages all interested parties to submit evidence to be considered as part of this review.
Evidence should refer to the review themes of effectiveness, efficiency, fairness, and transparency, as outlined in the terms of reference. The review team is particularly interested in hearing:
what has been your experience of designing, implementing, or being the recipient of an LCTS scheme?
what have been the main challenges, and how have these changed over time?
What impact has LCTS had on the following:
local autonomy
local finances and budgeting
local residents
Responses should be a maximum of 6 A4 pages. In addition to your typed response, the review team will accept supporting documents as part of your evidence.
Please submit your response and any supporting documents electronically to lctsreview@communities.gsi.gov.uk no later than close Tuesday 12 January.
If you have any queries, please email the review team at lctsreview@communities.gsi.gov.uk.
Office address and general enquiries
2 Marsham Street
London
SW1P 4DF
Contact form http://forms.communiti...
General enquiries: please use this number if you are a member of the public 030 3444 0000
Published 2 December 2015