Launch of 'Framework for Future Proofing Aluva' by Chief Minister of Kerala
These priority projects form the core of 'Framework to Future Proof' Aluva, an urban plan prepared by Atkins UK and INTBAU with support from the UK.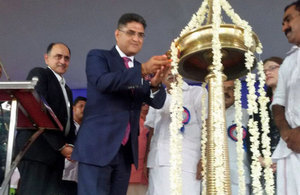 Hon'ble Chief Minister Oommen Chandy today launched a set of projects to help Aluva better prepare for impacts of climate change and to sustainably improve the quality of life for local residents. These projects form the core of the 'Framework to Future Proof' Aluva, an urban plan prepared by Atkins UK and International Network for Traditional Building, Architecture & Urbanism (INTBAU), with support from the UK Government.
The plan consists of a portfolio of projects, set of activities and additions to the Aluva urban master plan. It identified the investments and projects required to make the urban systems smarter, efficient and resilient to threats from climate change. This will be achieved by addressing three key infrastructure priorities, which are urban development, Periyar river cleaning and solid waste management.
Chandy announced launch of projects under the infrastructure priorities for immediate intervention on sanitation, waste segregation and sewage systems. With substantial private sector involvement, these projects will play a key role towards improving quality of life of the people of Aluva.
Bharat Joshi, British Deputy High Commissioner, Chennai, said:
Today is an important day for our partnership with the Aluva Municipality and the Government of Kerala. Today Aluva Municipality launched the final plan for the sustainable development of Aluva, to offer its citizens cleaner water and air, better sanitation facilities, improved road safety and flooding systems. We will continue to work with stakeholders to realise the masterplan.
Sandy Sheard, Counsellor, Energy and Climate Growth Unit, British High Commission, New Delhi said:
Economic growth that is low carbon and climate aware is at the heart of the smart cities agenda. We are extremely pleased to have collaborated with Aluva Municipality and the Government of Kerala to support their vision for sustainable, climate resilience development in this important and historic town. It is wonderful to see the work take shape through the initial projects announced today.
Roger Savage, Director, Atkins UK, said:
It gives me great pleasure to see the start of tangible deliverables under the future proofing framework of Aluva. The three key priority areas for our intervention are an urban design plan to improve the quality of public places to encourage use of low carbon transport options, restoration of Periyar river and implementation of green corridors and improvements in the waste management systems of Aluva. We are confident that the projects carried out under the framework will deliver high quality changes which would enable Aluva better adapt to climate risks.
Background
In November 2013, His Royal Highness The Prince of Wales, during his discussion with the Hon'ble Chief Minister of Kerala, highlighted UK's expertise in sustainable planning and encouraged the state to act on climate change. The Hon'ble Chief Minister spoke about the Kerala sustainable urban development work and seconded the need to develop sustainably.
Under the pillars of sanitation, waste management and sewage systems, the following activities will be undertaken:
construction of E-Toilets at public spaces as a step towards water conservation and improved sanitation facilities – Funded by Eram Group, Kozhikode
waste collection and segregation to be flagged off at three wards – Funded by Nest Group, Kochi
a sewage treatment plant rehabilitation project to be launched – Funded by Federal Bank, Aluva, Kerala 10 August 2015
Further information
Background can be found in earlier news releases relating to 'future proofing' Aluva:
For media queries, please contact : Anita Mawdsley, British High Commission, Mobile: 96001 99956
Follow us on Twitter, Facebook, Flickr, Storify, Eventbrite, Blogs, Foursquare, Youtube
Published 10 August 2015