Launch of new STEM children's book: Sky Pods in Phnom Penh
The British Embassy launched Cambodia's first STEM children's story book entitled, "Sky Pods in Phnom Penh" on Tuesday 15 March 2016 at a primary school in Romduol Tbong village.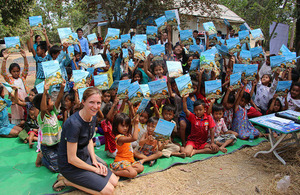 The aim of the book is to spark an interest in engineering from a young age and to empower children, especially girls. The book is bilingual English/Khmer and is written in rhyming style. It is aimed at children in the 5-10 year age range.
The book was written by British Deputy Ambassador, Dr Bryony Mathew, and was published by Sipar. The illustrations are by Mr Seat Sopheap.
"Sky Pods in Phnom Penh" tells the story of how a young Cambodian girl comes up with inventions to help her to finish her household chores so that she can spend more time reading books which is what she loves doing best. She searches through her house to find pieces of junk and then measures and fastens and assembles the parts to make a marvelous machine that helps her to feed the chickens, water the garden and sweep the floor. Her mum and her teacher are amazed by what she has achieved and tell her that she's a little engineer. When she grows up she moves to Phnom Penh and becomes a real engineer who designs the new transport: super fast tuktuks and pods that take flight – Sky Pods in Phnom Penh!
The embassy will be donating 1000 copies of the book to Sipar for distribution to libraries across Cambodia, and 1000 copies to the Ministry of Education for distribution to schools across the country. The book is also available to download for free HERE
Dr Bryony Mathew, author of Sky Pods in Phnom Penh, and Deputy Ambassador at the British Embassy said:
I wanted to find a way to spark an interest in STEM subjects in young children because ideas that are formed early in life can have a lasting effect on what individuals choose to do in the future. Cambodia desperately needs more STEM professionals - more public health specialists, more software programmers, and more civil engineers.
I decided to write about a young Cambodian girl living in the countryside so that local Cambodian children could relate to her and could start to believe that if she could come up with a brilliant idea and become an engineer, then why couldn't they? My hope is that this book empowers young boys and girls, that it encourages them to use their imaginations and come up with solutions for problems.
And if it succeeds in encouraging even a handful of Cambodian children to become future engineers, then that would be a wonderful outcome.
Mr Sothik Hok, Director of Sipar said:
The imagination and the creativities are very important elements not only for the development of children, but also for all sciences. Through its reading activities, especially through the mobile libraries, Sipar is proud to be part of the STEM project launched by the British Embassy, by being the publisher of Sky Pods in Phnom Penh
Dawn Bonfield, Chief Executive of the Women's Engineering Society said:
This delightful book tells the story of how Kiri discovers that engineering is all about solving problems close to home to help get her chores done so that she can keep doing what she loves best: reading.
Engineering is in all young girls and boys and this story shows how real problems spark our imaginations to find real solutions. We hope it inspires a whole new generation of young engineering girls.
Notes
"Sky Pods in Phnom Penh" is part of a wider programme of work by the British Embassy:
Together with the Ministry of Education, Youth and Sport (MOEYS) and IDP Cambodia, the embassy has set up a STEM Ambassador Network for Cambodia. The STEM Ambassadors are now running road shows at schools in the Cambodian provinces to raise awareness of the opportunities available in STEM and to encourage more students to choose STEM subjects.
The embassy has collaborated with Saint Blanquat & A. to produce a STEM careers guide called "STEM Careers of the Future". The guide identifies the top 20 STEM careers gaps in Cambodia over the next 10 years. The aim is to show young Cambodians what exciting career opportunities there are in STEM, to introduce important jobs they may never have heard of, and to motivate them to choose STEM. The guide includes case studies of Cambodian professionals successfully working in each career who share with young Cambodians what is required skills-wise for the exciting opportunities available in STEM. The guide is available to download HERE.
The Embassy has collaborated with MOEYS and the Cambodian Mathematical Society to bring a new British method of maths teaching to Cambodia called "Diagnostic Questions" which works by identifying and correcting misperceptions. The project aims to increase the Grade 12 maths pass rate, and the embassy has already trained over 1100 teachers and students on this new method. The embassy has now produced a Smart Phone app of Diagnostic Questions.
The embassy is working with Kids City to run STEM Activity days for Cambodian students and their teachers at the Science Discovery Center.
The embassy is helping to develop leadership skills through a series of Chevening Career Development Learning Sets; mentoring young Cambodian professionals; and giving talks at local universities on the importance of STEM education and what opportunities there are for young people going into these areas for work.
Published 15 March 2016