Launch of Near Neighbours programme
Secretary of State for Communities and Local Government Eric Pickles has spoken of the vital role that faith groups play in local communities…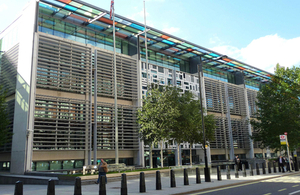 Secretary of State for Communities and Local Government Eric Pickles has spoken of the vital role that faith groups play in local communities, enriching neighbourhoods and improving the lives of those around them.
He was speaking at the formal launch of Near Neighbours, a £5million three-year Communities and Local Government funded programme that aims to bring together people from diverse communities and different faiths to get to know each other better and help them improve their local neighbourhoods.
A Near Neighbours small grants fund is now up and running and grants of between £250 and £5000 are being awarded to grass roots groups in four targeted geographical areas.
Among the projects already awarded funding are:
Otley Road and Barkerend Environment Project in Bradford, an important space where local people can come together to appreciate and learn more about nature. Near Neighbours funding will support an inter faith, intergenerational group of local residents who will run projects around tree planting and recycling to improve their local area for the benefit of the whole community.
The Kingsbridge project in Birmingham run by the Riverside Church, Moseley which has been working to secure the transfer of playing fields from the Council. Kingsbridge will use the area acquired to provide a sports and social centre for their diverse community, which they have identified as a major need.
Eric Pickles said:
The work we are celebrating today is the next chapter in the same centuries-old, proud and unbroken tradition of people of faith giving back to local communities. They enrich their neighbourhoods and improve the lives of those around them through practical action.

Too often communities that live side by side don't get together as often as they could to discuss and tackle the issues and challenges that matter to them most. This can lead to isolation and misunderstandings which are not healthy for local communities, when by and large, irrespective of creed or faith most people want the same thing, for their neighbourhoods to be better places to live.

Faith groups play a vital role in our neighbourhoods. We want to give them help to do what they do best. That's why we are funding Near Neighbours as an investment in the future; supporting grass roots groups and projects to allow communities to get on transforming their neighbourhoods for the better.
Overseen by the Church Urban Fund, Near Neighbours is targeted in four areas: the M62 "mill towns" corridor (Bradford, Burnley, and Oldham); Leicester; and selected boroughs and wards in East London and Birmingham. It builds on the good work already out there, recognising that small, local, faith groups know what works best and where money is needed most - often only a small sum - to bring about lasting benefits to their local neighbourhoods.
Each of the four areas has a centre with experience of working with different faith groups, removing the need for any additional red tape. The programme will fund them to undertake new inter faith work alongside partners such as the Christian Muslim Forum to cover the costs of Anglican clergy meeting imams and clergy of other faiths and sharing their experiences and expertise on residential courses. It will also help support a new generation of leaders and young activists - the people who want to make a difference in their community through practical help, such as getting graffiti cleaned up and gardens planted.
Notes to Editors
1. Secretary of State for Communities and Local Government, Eric Pickles was speaking at St John on Bethnal Green, where he joined faith leaders and grass roots activists at the formal launch of Near Neighbours.
2. The Near Neighbours charity was created by Church Urban Fund and the Archbishop's Council following the award of £5million by the Department for Communities and Local Government in February 2011. It is administered by the Church Urban Fund.
3. The programme is co-ordinated in the four targeted areas by four local hubs with experience of local community partnership working (the St Philip's Centre, Leicester, the Faithful Neighbourhoods Centre, Birmingham, the Contextual Theology Centre East London and Bradford Churches for Dialogue and Diversity. The programme also works in partnership with the Christian Muslim Forum, the Council of Christians and Jews and the Hindu Christian Forum.
4. Further information about Near Neighbours, including the Near Neighbours Fund, is available at: www.near-neighbours.org.uk (external link).
5. For media enquires to Church Urban Fund please contact Emma Bennett on 020 7898 1668 or e-mail: emma.bennett@cuf.org.uk.
Twitter
Keep up to date with the Department by following us on Twitter (external link).
Media enquiries
Visit our newsroom contacts page for media enquiry contact details.
Published 14 November 2011