World news story
Launch of Memorial to victims of torture and ill-treatment during the colonial period in Kenya
British High Commission and Memorial Steering Committee launch a memorial to victims and ill-treatment during the colonial era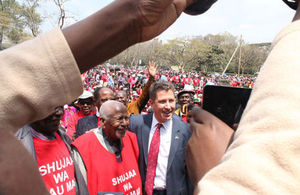 Cabinet Secretary for Sports, Culture and the Arts, Hon. Hassan Wario today inaugurated a memorial in honour of victims of torture and ill-treatment during the Emergency Period (1952-60), in Uhuru Park's Freedom Corner.
The inauguration ceremony was officiated by a Steering Committee comprising the British High Commission, the Mau Mau War Veterans Association (MMWVA), Kenya Human Rights Commission (KHRC), the Nairobi Governor's Office and the National Museums of Kenya.
Speaking at the inauguration were British High Commissioner, Dr. Christian Turner, Secretary-General of the MMWVA, Hon. Dr. Gitu wa Kahengeri, Chair of the KHRC board, Prof. Makau Mutua, Hon. Lady Justice Mumbi Ngugi, and Nairobi County Governor, H.E Dr. Evans Kidero. Cabinet Secretary for Foreign Affairs and International Trade, Amb. Amina Mohamed, and Mau Mau veterans from across Kenya were also in attendance.
The construction of the memorial is part of an out-of-court agreement between the British Government and five claimants represented by the MMWVA reached in 2013. The agreement included payment of a settlement sum in respect of 5,228 claimants, as well as a gross costs sum, to the total value of £19.9 million (approximately Ksh 2.7 billion). The British Government made a public statement of regret for the abuses committed during the Emergency Period and also agreed to support the construction of a memorial in Nairobi to the victims of torture and ill-treatment during the colonial era and to promote reconciliation between all sides.
The memorial stands as a symbol of reconciliation between the British Government, the Mau Mau and all those who suffered during the Emergency Period.
Speaking at the inauguration of the memorial, the British High Commissioner to Kenya, Dr Christian Turner said:
To deal with the present and move forward into the future we have to recognize and learn from the past. This memorial is about reconciliation, allowing us to discuss together the issues arising from a difficult period in our shared history, and to move forward together.
My personal part in this story is because my step-grandfather, Colonel Arthur Young, was Commissioner of Police in Kenya in 1954 and resigned over the colonial administration's failure to address brutality committed by the security forces. For him, and all those who suffered in the Emergency Period, I hope that we can ensure the UK-Kenya relationship continues to be based on mutual respect, partnership and shared interests, with links that benefit both our countries in a spirit of understanding, inclusivity and dignity.
Published 12 September 2015