News story
Launch of Government's Best Use of Stop and Search Scheme
Thirty-five police forces across England and Wales will fully implement the stop and search scheme from today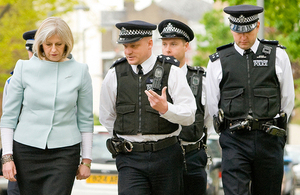 The Home Office has today launched the Best Use of Stop and Search Scheme, with thirty-five forces going live immediately.
The voluntary scheme, which was announced by the Home Secretary in April, is part of a range of measures that will contribute to a reduction in the overall use of stop and search, lead to better and more intelligence-led stop and searches and more effective outcomes.
The thirty-five forces going live today have implemented all aspects of the scheme to:
increase transparency by recording all outcomes of stop and search and whether there is a connection between the grounds for the search and the outcome;
restrict the use of Section 60 "no suspicion" powers;
give members of the public the opportunity to observe stop and search in practice; and
introduce a community complaints trigger – ensuring that complaints are properly monitored and scrutinised.
The remaining eight forces – City of London, Derbyshire, South Yorkshire, Greater Manchester Police, Dorset, South Wales, Lincolnshire, South Yorkshire – are already implementing aspects of this scheme and have confirmed the scheme will become fully operational in their force area in coming months.
Home Secretary Theresa May said:
No one should be stopped and searched on the basis of their race or ethnicity.

These powers are vital in the fight against crime when used correctly. However, they must be applied fairly and only when needed – and in a way that builds community confidence rather than undermining it.

I'm delighted that the Best Use of Stop and Search Scheme has launched today. Reforming the use of stop and search powers saves officers' time and increases transparency within the local community.

Our stop and search reforms are working. The number of searches are down under this government, by 15% in the last year alone. But we cannot be complacent and must ensure that the public can hold the police to account for their use of these powers.
College of Policing lead on stop and search Inspector Nick Glynn said:
Stop and search powers are necessary to help us tackle crime and keep people safe. It is clear that the service has not always got its use of these intrusive powers right, and this has left resentment in our communities. Under this scheme outcomes will be recorded in more detail so we have a greater understanding of how the powers are being used. Searches which do not require reasonable grounds of suspicion will reduce, be subject to more effective oversight from senior officers and communities will have greater powers to question the police over their use of stop and search.

The College of Policing is working to review and develop the evidence-base, training and guidance on stop and search. This will help to ensure that police officers at every level in the service – including those at senior ranks overseeing the use of the power - are equipped with the right knowledge and skills to conduct stop and search effectively, proportionately and fairly. We are also working in partnership with the Equality and Human Rights Commission to look at whether unconscious bias is affecting officers' use of stop and search.

There are many areas of good practice and the College will be sharing that across the country so that we see the changes needed to ensure that our communities are confident that these important powers are being used appropriately and where their use is necessary.
British Transport Police
The Home Secretary also announced today that British Transport Police will be joining the scheme before the end of the year. The Home Office is working with BTP to ensure that they are able to implement the scheme's requirements early in the new year.
Stop and Search Mapping
From today West Mercia and Nottinghamshire police will begin a pilot scheme that will digitally map stop and searches, identifying locations where stop and searches take place using geo-mapping technology. The data will be uploaded to Police.uk so the public can monitor the use of stop and search powers.
And following an eight-week public consultation on revising the Police and Criminal Evidence Act (PACE) Code A, which governs the police's use of stop and search, the Home Secretary will lay a revision to Code A in parliament this week. This revision will make clear to officers what constitutes 'reasonable grounds for suspicion' and to emphasise that the misuse of stop and search powers would lead to performance or disciplinary procedures.
Published 1 December 2014