World news story
Launch of a new roadmap to save DRC's endangered tropical forests
From:

Part of:

Published:

12 February 2014
This was published under the 2010 to 2015 Conservative and Liberal Democrat coalition government
Members of Parliament and key stakeholders met in Kinshasa to launch a roadmap for reform to help save the tropical forests of the DRC.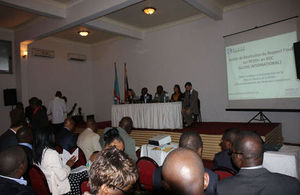 Leading parliamentarians and key stakeholders met in Kinshasa on Friday February 7 February 2014 to launch a roadmap for reform to help save the Democratic Republic of Congo's tropical forests. The GLOBE DRC Chapter of parliamentarians presented the new plan at the workshop, co-hosted by the British Embassy in Kinshasa and the DRC Ministry of Environment. This workshop brought together politicians from all major Congolese parties, experts, government representatives, indigenous groups, civil society organisations, and international organisations, to agree on a common plan to help save one of the world's most valuable tropical forest areas.
The Congo Basin is home to the second largest tropical rain-forested area on earth. Healthy forests are vital for the local communities who live there and play an important role to trap carbon dioxide, thereby contributing to the mitigation of climate change. Yet ongoing deforestation risks worsening poverty and further damaging the world's climate. Forest governance in the DRC is plagued by corruption, illegal logging, and perverse economic incentives to cut down forests rather than manage them sustainably.
Local communities, the DRC government, and the international community have joined forces to stop deforestation in the DRC over the past years, including through a new international mechanism, REDD+. However, these efforts will not succeed unless national forest laws are in place and the DRC Parliament takes on a greater role in scrutinising budgets and strengthening forest governance plans. The concerns of indigenous groups and local communities also need to be heard.
In 2012, GLOBE International formed a partnership with the DRC Ministry of Environment to support Congolese parliamentarians to create legislation that provides greater transparency in forest governance and keep forests intact. As a result, leading parliamentarians have agreed on a series of reforms to be undertaken in 2014 and 2015, including forest law reform, land tenure reform, environmental and social safeguards for REDD and arrangements on sharing future revenues from REDD+. The workshop discussed the proposals and agreed on key priorities for 2014. Mexico was the first country in the world to successfully pass laws for REDD+ in 2012. Mexican Congresswoman Yesenia Nolasco, who was invited by GLOBE, shared Mexico's experience at the Kinshasa workshop.
Honourable Tshimanga Buana, the Deputy Rapporteur of the National Assembly and President of GLOBE DRC, said:
Members of Parliament play a very important role in the fight against deforestation in the DRC. Through this Road Map, GLOBE legislators call upon the Government, civil society and international community to join forces with us to urgently pass needed forest and REDD pieces of legislation in 2014.
British Ambassador to the DRC, Diane Corner, speaking at the launch said:
I welcome this important event today. Tackling climate change and protecting forests are priority issues for the UK. That is why we are providing £3.87 billion through the International Climate Fund to reduce poverty, including by helping developing countries to take up low carbon development and adapt to the often devastating impacts of climate change.

This workshop is an encouraging step forward in the implementation of REDD+ and forest governance. We are ready to work closely with Congolese parliamentarians, organisations and forest communities to make sure that Congo's magnificent forests are managed sustainably and transparently for future generations to inherit.
The Ambassador also spoke about the major conference on the Illegal Wildlife Trade which the UK will be hosting in London on 13 and 14 February 2014 to help eradicate this criminal activity, and better protect the world's most iconic species from the threat of extinction.
Mr Vincent Kasulu, the DRC Ministry of Environment Permanent Secretary, representing the Minister, said:
We are aware of the strategic importance of the DRC in the REDD+ process. This aims not only at reducing deforestation and the degradation of forests, but also at helping to maintain global forests ecosystems balance which preserves biodiversity. The London Conference on the Illegal Wildlife Trade will be an opportunity for us to discuss this serious issue which affects our fauna resources.
Congresswoman Yesenia Nolasco said:
As parliamentarians in the global South, we can learn from each other across borders. In Mexico and the DRC, we aim at shared objectives, namely: to strengthen the sustainable management of forests for conservation and social development. I hope that Mexico's successful experiences in passing REDD and forest legislation in 2012 can inspire our DRC colleagues.
Document information
Published: 12 February 2014