Latest UK Armed Forces manning figures released
Figures showing that the UK Armed Forces are currently at 99.7 per cent of their full-time trained strength requirement have been released today by the MOD.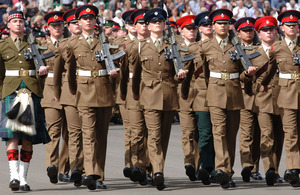 This is up from 97.4 per cent a year ago and shows a continuing upward trend.
18,630 new recruits have joined the UK Regular Forces in the 12 months to 30 June 2010. This is a decrease of 5,010 from the 12 months to 30 June 2009 as the Armed Forces are now very nearly fully-manned, meaning there is a reduced intake requirement.
The statistics also show that the number of people leaving the trained strength of the UK Regular Forces in the 12 months to 30 June 2010 has fallen by 9.8 per cent (1,990 people) compared with the same period a year ago.
As at 1 July 2010, the full-time trained strength of the UK Armed Forces was 178,380, against a target of 178,880. This comprises 173,930 UK Regular Forces, 830 Full-Time Reserve Service personnel and 3,610 Gurkhas.
Under Secretary of State for Defence, Andrew Robathan, said:
It is encouraging to see that a career in our Armed Forces is proving to be a popular choice, so much so that we are at almost 100 per cent of our manning requirement.
Our personnel are some of the best in the world and the work they are doing in operational theatres and back in the UK demonstrates this.
Although the numbers of people we need to recruit have reduced, recruitment continues, and, with more people staying in the Armed Forces too, we continue to strengthen all three Services.
Since 1 July 2009, the proportion of females in the UK Regular Forces has remained static at 12.1 per cent for officers, and risen from 9.0 per cent to 9.1 per cent for other ranks.
The percentage of UK Regular Forces from ethnic minority backgrounds has remained static at 6.6 per cent of UK Regular Forces since 1 July 2009.
Published 26 August 2010