Latest Type 45 destroyer enters service with the Royal Navy
The latest Type 45 destroyer, HMS Dauntless, has entered service with the Royal Navy, the Ministry of Defence announced today.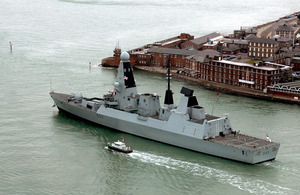 The warship, which has a hull made of 2,800 tonnes of steel, is the second in the fleet of six air defence destroyers and has undergone months of extensive sea trials. She recently returned from the Hebrides where she successfully fired the world-leading air defence missile system, Sea Viper, for the first time.
The ship, which has fuel tanks that are roughly half as big as an Olympic-sized swimming pool, will now undergo further trials and training to prepare for her first operational deployment planned for next year.
Minister for Defence Equipment, Support and Technology, Peter Luff, said:
The declaration of HMS Dauntless' in-service date is a significant achievement, even more so when you consider that first of class HMS Daring achieved the same milestone only three months ago.
This is testament to the hard work of MOD and industry teams to deliver these hugely capable vessels, which will ensure the Royal Navy is well equipped to meet the demands of the future.
Captain Richard Powell, Dauntless' Commanding Officer, said:
Entry into service of this very powerful and advanced warship is a great day for both the ship's company and the Royal Navy.
These modern multi-purpose vessels will replace some of our older warships and ensure that the UK can react to current defence challenges anywhere in the world.
Head of the Destroyers Project Team, Commodore Steve Brunton, added:
I am delighted that we have declared HMS Dauntless in-service, coming hot on the heels of her successful firing of the Sea Viper missile system. This considerable success demonstrates that the Type 45 ship-build programme is progressing well.
With all six Type 45s now in the water, the Destroyers Project Team, industry, Navy Command and ships companies are in the busiest year yet of this important programme for the Royal Navy and this key event for HMS Dauntless is a result of a magnificent team effort.
HMS Dauntless was launched in January 2007 and has since undertaken months of sea trials. She set sail from Portsmouth on 15 November 2010 to begin her second set of sea trials.
Published 17 November 2010