News story
Latest news from BIS partners
BIS is supported by a network of organisations that help to deliver the Department's priorities.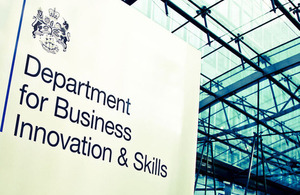 These range from executive agencies - for example the Intellectual Property Office - to Research Councils, Regional Development Agencies (RDAs) and public corporations.
You can read more about the latest news from our partners below:
New scan for autism
Medical Research Council-funded scientists have come up with a new technique to diagnose autism in adults. The brain scan technique takes just 15 minutes, as opposed to the current lengthy and subjective method of personality assessment. The scan could lead to the detection of autism in children in the future.
Are our buildings ready for climate change?
The Technology Strategy Board (TSB) has commissioned a report on the challenges the built environment will need to withstand as the climate changes and we reduce the energy we use. Design for Future Climate asks how we can adapt our buildings and explores whether these challenges offer commercial opportunities.
Millions of pirated items seized
The Intellectual Property Office's (IPO) annual report reveals that millions of fake items were seized by HMRC through investigations into everything from market traders to internet auctions. The report highlights the collaboration involved in anti-piracy work.
Intellectual Property Minister Baroness Wilcox said: "I am pleased to see everyone coming together - police, trading standards, industry, the IPO, and others - to tackle this menace."
UK and India work together on science
The Engineering and Physical Sciences Research Council (EPSRC) is to play a major role in two joint UK-India projects, announced by Science Minister David Willetts on his trip to India last month. Researchers from both nations will collaborate on technological, economic and societal solutions to improving the lives of rural populations; and the development of environmentally friendly fuel cells.
UK broadband accelerates - but not as much as claimed
Ofcom research has found the average broadband speed available in the UK has risen by more than 25 per cent in the last year to 5.2Mbit/s. But there is a growing gap between the speeds some suppliers advertise and what they actually deliver.
Londoners already winning from Olympics
A report from the London Development Agency (LDA) shows thousands of Londoners have already benefited from investment in skills and jobs linked to the Olympics. Almost 20,000 unemployed Londoners have been helped into jobs, and more than 12,000 have received construction training, funded by the LDA and its partners.
Business scheme gives boost to young biotech entrepreneurs
A review of the Biotechnology Young Entrepreneurs Scheme has found it gives young researchers the edge in future career prospects and an awareness of commercial opportunities. Universities and Science Minister David Willetts said the initiative "offers important entrepreneurial skills to our next generation of talented scientists and technicians so they can exploit the results of their research and help the economy to grow".
Links
Published 12 August 2010