Latest councils at forefront of bringing growth-led benefits named
Pioneering councils eager to demonstrate how they would ensure the benefits of development would be shared with their community were today named…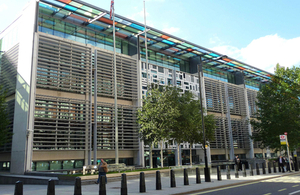 Pioneering councils eager to demonstrate how they would ensure the benefits of development would be shared with their community were today named by Decentralisation Minister Greg Clark.
The group of 20 Local Authorities are the second to join the Community Infrastructure Levy Front Runners project. This was set up to support Local Authorities eager to develop effective ways of implementing the reformed levy in their local areas.
The levy gives councils more choice and flexibility in how they fund infrastructure that local communities need and want and has the potential to raise an estimated £1 billion a year of funding by 2016 that can be used by neighbourhoods and councils to support local growth.
Greg Clark:
Yet again we've seen a lot of enthusiasm from councils eager to introduce the reformed Community Infrastructure Levy, to ensure the many benefits development can bring are not lost to local communities.

This second wave of Front Runners will ensure local neighbourhoods reap the rewards from growth in their areas and provide valuable lessons others can learn from in the future.
Each Front Runner will have access to a tailored package of support from the Planning Advisory Service to help them set a charge for their area. This will include group workshops and good practice advice.
Helen Howie, principal planning officer at Shropshire Council, one of the first Front Runner councils introducing the levy said:
The Front Runners Programme has already proved its worth from my perspective. It has been really useful for developing our Charging Schedule. The project's helped us develop the right approach for Shropshire, which complies with the regulations and helps delivers our local ambitions.
The 20 councils selected for phase two of the Front Runners project are:
London Borough of Barnet

Barnsley Metropolitan Council

Bristol City Council

Cambridgeshire Horizons (East Cambs District Council and Huntingdonshire District Council)

Chelmsford Borough Council

London Borough of Croydon

Elmbridge Borough Council

Gedling Borough Council

Havant Borough Council

London Borough of Islington

Milton Keynes Council

Oxford City Council

Plymouth City Council

Redcar and Cleveland Council

St Helens Council

London Borough of Sutton

Swindon Borough Council

Torbay Council

London Borough of Wandsworth

Wycombe District Council
The Front Runners project ensures all Local Authorities can access useful examples of good practice.
Notes to editors
1. On 18 November 2010 Greg Clark announced the Government's plans to reform the Community Infrastructure Levy. The Community Infrastructure Levy was first introduced by the previous Government in April 2010. It allows local authorities in England and Wales to raise funds from developers undertaking new building projects in their area. The money can be used to fund a wide range of infrastructure that is needed as a result of development.
2. A revised version of the Department's Community Infrastructure Levy overview document is available at: www.communities.gov.uk/publications/planningandbuilding/communityinfrastructurelevymay11.
3. The Planning Advisory Service provides consultancy and peer support, learning events and online resources to help local authorities understand and respond to planning reform.
Twitter
Keep up to date with the Department by following us on Twitter (external link).
Media enquiries
Visit our newsroom contacts page for media enquiry contact details.
Published 29 June 2011