News story
Last fuel leaves Oldbury site
Magnox Ltd has dispatched its final flask of fuel from Oldbury for reprocessing at Sellafield in Cumbria, completing the site's programme of defuelling and removing 99 per cent of the radioactive hazard from the site.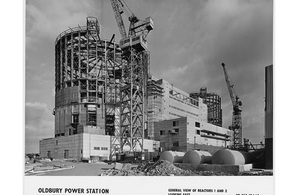 This achievement enables Oldbury to move into its decommissioning phase with the aim of reaching care and maintenance by 2027. This will leave the site in a safe and secure state, with all its higher hazards stabilised or removed.
Oldbury has been receiving and shipping fuel since it began operations in the 1960's so today's final fuel shipment marks the end of an era for the site. Staff, both past and present, gathered to wave off the fuel flask at the gates.
Mike Heaton, Oldbury Site Director, said:
I am extremely proud of the whole team for working together to reach this important milestone in record time. It has not been an easy task and the work at Oldbury is far from complete, but today is a significant landmark in the site's journey towards care and maintenance.
Brian Burnett, Head of Programmes at the Nuclear Decommissioning Authority (NDA), which owns the site, said:
The dispatch of the final fuel flask from Oldbury is a significant hazard reduction milestone and marks the completion of a major programme of work as the site continues its journey towards entering care and maintenance. My congratulations to the Magnox team at Oldbury for an excellent job achieved ahead of schedule.
Oldbury will now go through a workforce transition to enable it to refocus on decommissioning. Near-term work priorities include a mix of conventional and radiological projects to further reduce hazards on site.
Published 7 January 2016