Press release
Last chance to submit bureaucracy-busting ideas to Civil Society Red Tape Challenge
Charities, social enterprises and voluntary organisations are being encouraged to tell government about unnecessary/ineffective regulation.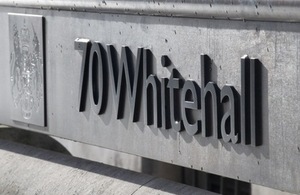 29 August 2012 
CAB 082-12 
Charities, social enterprises and voluntary organisations are being encouraged to tell the government what more can be done to release civil society from the burden of unnecessary or ineffective regulation, Nick Hurd, Minister for Civil Society, announced today.
As part of the government's war on unhelpful bureaucracy, the Health and Safety Executive has already issued simplified risk assessment forms based on common sense and proportionality, while insurance companies have clarified their policies toward volunteer drivers. The sector now has until mid-September to submit similar ideas to the Civil Society Red Tape Challenge.
Building on the consultation which took place earlier this year, the Cabinet Office will now be working with the sector on Lord Hodgson's recently published review of the Charities Act 2006. To inform its forthcoming response to the report, the Cabinet Office will be writing to specific organisations and professionals to seek their feedback on those recommendations they support or otherwise and those which need further work.
These calls come as the Cabinet Office publishes a Progress Update outlining its work to make it easier to set up and run charities, social enterprises and other voluntary organisations. Better regulation is key, alongside enhancing skills and capability within the sector and improving access to resources, volunteers and support networks - all high priorities for the government.
Minister for Civil Society Nick Hurd said:
Only by meeting the reality of tough economic conditions and radical public sector reform head-on can civil society fulfil its potential to help create a better, stronger society. The government's focus is to work with the sector in three key areas: better regulation, better support and better skills.

We want to make it easier to run a charity, social enterprise or voluntary organisation, so we've launched the biggest ever review of regulation affecting civil society. This is the last chance for the sector to come forward with ideas and tell us if rules and regulations are hindering organisations or making it difficult for volunteers to get involved.
The Progress Update outlines how effective partnerships and strong networks will become increasingly important, particularly in challenging economic circumstances, whilst radical reform of welfare, education and other public services will demand greater leadership and more business-like skills.
A new strand of the Innovation in Giving Fund, which was set up in 2011 as part of the Giving White Paper, will explore and generate new operating and funding models for volunteer centres. The government will also work with the sector to harness the potential of technology and digital media to reduce cost, generate income and mobilise support.
Over the past two years, the government has invested £40 million in the infrastructure that exists to support civil society. Today's progress update details some of the key achievements to date, including:
introducing the Protection of Freedoms Act 2012 to scale back unnecessary criminal record checks;
helping local charities become more efficient, target their services and build support networks through the Transforming Local Infrastructure Programme;
supporting the infrastructure websites Do-It and Funding Central to make it easier for charities to access volunteer databases and funding opportunities;
funding nine national infrastructure bodies through the Strategic Partners programme;
investing £1.75 million in Skills Third Sector, a charity that supports the development of the sector workforce; and
supporting Business in the Community's Business Connectors programme, which matches charities with business professionals who offer relevant expertise.
Notes to editors
1. The Civil Society Red Tape Challenge is open until mid-September and poses three questions to charities and civil society organisations, which can be answered on the website or emailed to redtapechallenge@cabinet-office.gsi.gov.uk:
Is there red tape that stops you giving your time or money?
If you run a civil society organisation, are there rules and regulations that stop you making it more successful?
Should it be easier to invest in social ventures?
2.  'Making it easier to set up and run a charity, social enterprise or voluntary organisation: Progress Update' is published here.
Published 29 August 2012