News story
Laos Embassy reopens in UK after nearly 30 years
Hugo Swire welcomed the reopening of the Laos Embassy in London after 29 years and two years after the British Embassy reopened in Vientiane.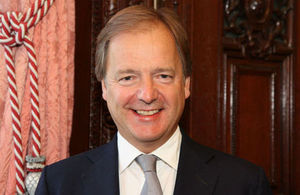 There is now a full complement of ASEAN (Association of South East Asian Nations) Embassies in London and the UK is one of the few EU members to have representation in all 10 ASEAN countries.
Minister of State for Asia, Hugo Swire attended the opening ceremony at Asia House and held talks with the Laos Deputy Prime Minister and Foreign Minister Dr Thongloun Sisoulith, including the signing of an agreement to hold regular official talks on expanding our cooperation.
Speaking at the opening ceremony, Mr Swire said:
Embassy openings are rare and special events. They symbolise the promise of a relationship between two countries. And after a three-decade interval, this is a special occasion.

In 2010, this government took a conscious decision to move resource to Asia, to ensure that the UK has the right networks for the decades ahead. I am delighted that this investment is being reciprocated, with all ASEAN countries now having an Embassy in London for the first time in many years. This is an important signal of our renewed relations with the region.

I would like to extend the same warmth and enthusiasm to our newest embassy as we received in Vientiane two years ago. Laos is most welcome here and I am sure our reinvigorated partnership means we have an exciting and productive future ahead.
UK engagement with Laos progressed significantly in the last two years. UK exports have increased by around 20% and over 43,000 British Nationals visit Laos each year, up from 35,000 in 2012. Education links are also thriving with Aston University establishing ties with the National University of Laos; and Wolverhampton and Oxford Universities have developed cooperation in forestry and disease management.
This reopening of our respective Embassies represents an important milestone in the strengthening of UK links with Laos, but also with the rest of South East Asia, one of the most dynamic and fast growing regions in the world. By 2030 the ASEAN economy is predicted to be the fourth largest single market in the world. The inauguration of the ASEAN Economic Community at the end of 2015 will see economic barriers reduced further. With over 40% of world trade passing through the region, the UK has a direct interest in establishing strong relationships with all ASEAN countries, and working for a secure, prosperous South East Asia.
Further information
Follow Foreign Office Minister Hugo Swire on twitter @HugoSwire
Follow the Foreign Office on twitter @foreignoffice
Follow the Foreign Office on facebook and Google+
Published 6 November 2014