Landmark reached in construction of new defence intelligence HQ
A formal "Topping-Out" ceremony has been held to mark the weatherproofing of the new Pathfinder Building at RAF Wyton - a significant milestone in the construction of the new Defence Intelligence facilities.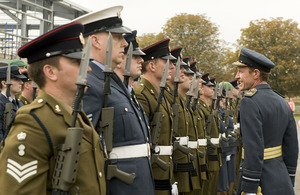 Military and civilian personnel were present at the reception, also attended by local dignitaries including the Vice Lord Lieutenant of Cambridgeshire, Mrs Jane Lewin-Smith and the High Sheriff of Cambridgeshire, Dr Nigel Brown OBE.
Lady Jess Broom and Mrs Noreen Bennett, representing the Pathfinders Association which retains its links with RAF Wyton as a wartime Pathfinder station, were also in attendance.
The Minden Band of the Queen's Division which is based at Bassingbourn provided music for the formal ceremony and a flypast took place to mark the occasion.
'Topping-Out' is a long held tradition in the construction industry, originating in Scandinavia, which marks a significant stage in the construction of a building.
Defence Estates (DE) is delivering the building with construction partner Skanska UK Plc, who also hosted the event. Work started on the new buildings in April 2009 and should finish by early 2014.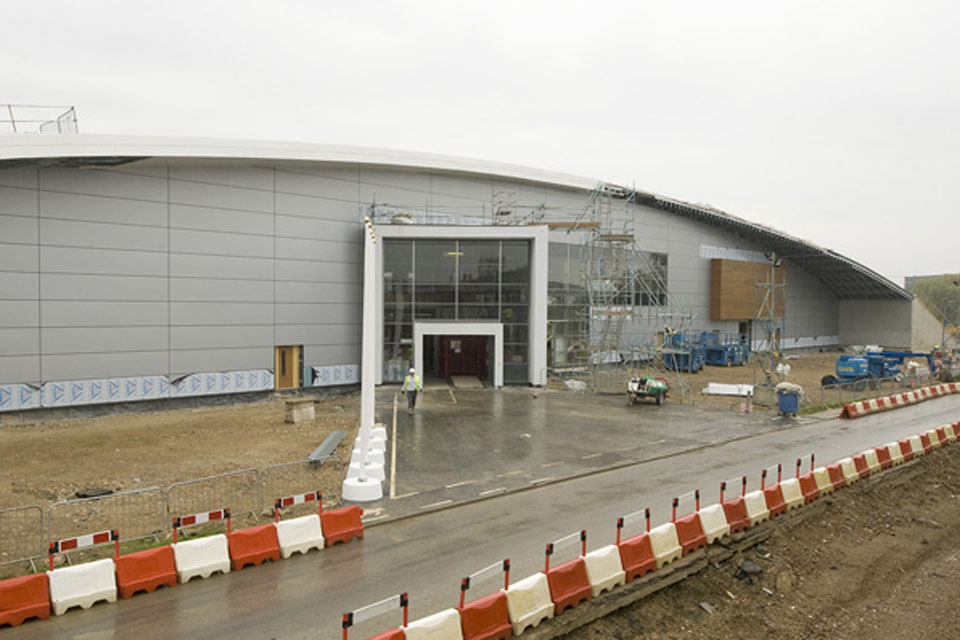 Robin Dawson, DE Principal Project Manager for the Wyton Redevelopment, said:
Defence Estates' priority is to support our Armed Forces. This large development of unique facilities has posed many challenges for the partners involved. Our contractor is working well on a complex, demanding programme with DE ensuring quality and value for money and Defence Intelligence providing their security expertise.
The complex of buildings will include modern office and living accommodation for units moving from RAF Brampton, Hermitage, Feltham, Waterbeach and Monchengladbach.
The new buildings will be equipped and personnel will complete their moves into their new accommodation by summer 2014. The moves will result in the disposal and sale of the current RAF Brampton site.
Neil Jordison, PRIDE Programme Manager, said;
This topping out ceremony marks a key milestone in the construction of the new suite of buildings which will provide the latest state of the art facilities for Defence Intelligence.
"Delivery of the buildings is a key element of the PRIDE (Wyton) programme which will enable the collocation of intelligence capabilities in Cambridgeshire and improve the processing and production of intelligence in support of front line commanders and strategic defence goals."
Published 13 October 2010