News story
Land Registry consults on Land Registration Rules 2003
Proposed rule changes will allow the introduction of new digital conveyancing and registration solutions over time.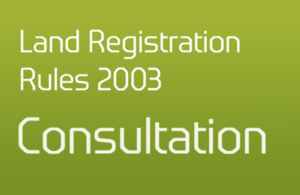 The consultation launched today, 9 February 2017, proposes some changes to the Land Registration Rules 2003 to allow Land Registry to continue its digital transformation programme. The proposals are designed to give customers more options in the use of its services and bring the rules into alignment with its digital strategy.
To support Land Registry's digital programme, the Rules need updating in several aspects, mainly:
to allow for fully digital conveyancing documents with e-signatures
to introduce new statutory services as requested by its customers
to allow for more flexibility as to when Land Registry is open for business and open to the public
to bring the rules up to date to reflect the modernisation and simplification of its services
It is also proposed to revoke the Proper Office Order 2013 and the Land Registration (Electronic Conveyancing) Rules 2008, since they will no longer be needed. The consultation will end on 5 April 2017.
Published 9 February 2017