Press release
Land and funding deal agreed for Bristol Arena site
Bristol's £90 million Arena proposal has been backed by a government support package that enables construction work to start next year.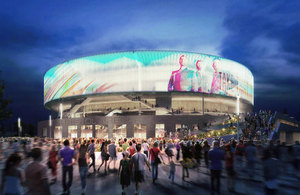 The Homes and Communities Agency (HCA) has agreed a deal which sees its Arena Island site transfer to Bristol city council today (25 March). This agreement supports the creation of around 2,700 jobs across the Enterprise Zone, alongside business space and up to 300 new and affordable homes on the Arena Island development area.
The transfer is supported with £5.425 million in funding from the Department of Communities and Local Government (DCLG). This will allow the council to invest its resources in future development of other sites within the Enterprise Zone.
The deal represents an important milestone in the development of the arena site, where the HCA is investing more than £11 million in a new bridge that will connect it to the rest of the enterprise zone. This work is expected to conclude by the end of the year.
It is one of five agreements the HCA expects to finalise this week on sites which have potential to unlock nearly 1,000 new homes across Bristol, alongside other improvements (see notes to editors for more detail).
Local Growth Minister Penny Mordaunt said:
It's great we've been able to broker this land deal with the council. The arena will be a landmark project for Bristol's Enterprise Zone, creating hundreds of jobs for hard-working people and pumping millions of pounds back into the local economy. The deal will also accelerate development across other brownfield land on Arena Island, transforming it into a vibrant hub for creative and digital industries. It's yet another example of how our Enterprise Zone programme is supporting growth, providing a real boost to local communities as part of our long-term economic plan.
HCA executive director for the South and South West Colin Molton added:
This agreement is an important step along the road to making this project happen.

These projects are complex and take time and perseverance to bring forward. All partners have invested significantly over a number of years to get the project to this stage. Activity is already happening on site which will connect it to its surroundings and unlock it for development. There is real momentum behind this vision now, which thousands of people have got behind during result consultations. These are exciting times for Bristol, and it's great to have played an important part in this success.
Bristol mayor George Ferguson added:
The transfer of Arena Island to the council marks a vital step in the development of the much needed 12,000 capacity venue for the region and follows hard on the heels of the announcement of the winning design team for the arena.
The agreement follows the council's recent RIBA design competition which has seen international architects Populous appointed to design the proposed venue.
Notes to editors
The agreement between the HCA, Bristol city council and DCLG will see:
the 3.7 hectare Arena Island site and nearby land at Bath Road transfer from the HCA to Bristol city council
funding of £5.425m from DCLG to support the transfer
In addition to Arena Island, the HCA is entering into four other agreements with partners, who will take responsibility for shaping future plans and consulting local communities on proposals for development hundreds of homes on sites in Bristol.
The remaining agreements include:
Filwood Park in south Bristol, where the HCA has agreed a deal with Barratt on a 6.3 hectare site to develop up to 150 new and affordable homes and a public park. This builds on the regeneration of the area with the successful Fillwood Green Business Park, which the HCA has supported by securing planning permission to develop the site and investing in a new access road and essential utility services.
The former ambulance station site in Marybush Lane, which is jointly owned with the council and is prepared for development of up to 250 homes. An agreement is expected to be finalised with a developer this week.
Disused former railway land at Ashton Gateway, which has potential for around 190 new homes and will be developed by Linden Homes.
Marksbury Road in south Bristol, where the HCA has finalised an agreement with Linden Homes which will see 80 new and affordable homes built near the new primary school which is nearing completion. The new housing will include 16 custom build plots which will provide opportunities for local people to own a bespoke home on prepared plots at Marksbury Road.
Published 26 March 2015