News story
Lancashire Teaching Hospital cuts waiting times and improves infection control
Patients using Lancashire Teaching Hospital NHS Foundation Trust are being seen more quickly and are at lower risk of infection following action by Monitor.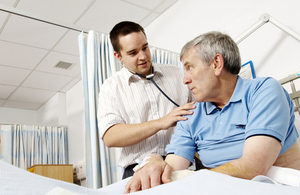 The health sector regulator opened an investigation in December last year after it found that some patients were waiting too long for treatment and the trust was failing to prevent hospital acquired infections.
Monitor was concerned that these failures may be the result of problems in the way the organisation was being run. However, an independent review, commissioned as part of the investigation, highlighted areas of good performance at a senior level. Additionally the trust has taken steps to improve waiting times and infection rates.
The regulator has now closed its investigation and returned the trust to routine regulatory scrutiny.
Frances Shattock, Regional Director at Monitor, said:
We had serious concerns about the time some patients were waiting for treatment and the number of patients picking up infections in hospital.

I'm pleased to say that the trust has taken action to tackle these problems on behalf of its patients. We've closed our investigation and will continue to hold the trust to account to make sure the improvements are maintained.
Published 16 July 2014